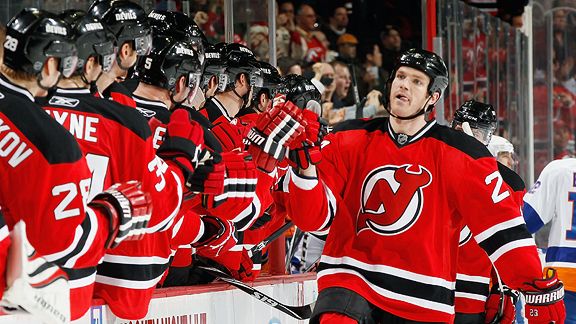 Mike Stobe/Getty Images
David Clarkson and the Devils have battled their way back to .500.NEWARK, N.J. -- "Playoffs? We're talking about playoffs? Playoffs?"
All right, so New Jersey Devils interim coach Jacques Lemaire didn't exactly sound like former Indianapolis Colts coach Jim Mora when asked about his team's postseason chances for what felt like the 1,000th time this season.
Lemaire had said he'd start talking about the playoffs when his team was five points out. Then he changed it to two.
And now, after beating the New York Islanders 3-2 in overtime on Saturday night to get within six points of the Buffalo Sabres for the eighth and final playoff spot in the Eastern Conference?
"Ask me when we're five points back," Lemaire joked.
No one thought this type of turnaround was possible when Lemaire inherited a 9-22-2 team from John MacLean. But the Devils (32-32-4) finally reached the .500 mark on Saturday night for the first time all season -- unless of course you count their overtime loss to the Dallas Stars in their season opener, which dropped them to 0-0-1.
"The league is so strong. Even when we were winning so many games in a row, I never thought enough to get to .500," Lemaire said. "The hill was too high to even think about that."
The Devils lost seven of their first eight games under Lemaire to fall to 10-29-2 at the halfway point. But ever since, they're 22-3-2 and they've gained 21 points on that playoff spot since Jan. 8.
New Jersey now has 68 points with 14 games remaining. The Devils would need to go 11-3-0 the rest of the way to reach 90 points. Yet, given what they've done in the second half, that seems plausible.
"There's no pressure," Lemaire said. "Because I don't look at the standings. I only look at the next game."
The Devils are 7-2-0 in their last nine games. All of those games have been decided by one goal. The last two have been won in overtime.
"We're steady. We're playing well," Lemaire said. "But it's the top players playing well. They're in charge in the room, getting the kids to play. The atmosphere inside is good. It's probably because all the wins, the guys are excited, and they feel they have a chance to win. And it carries on game after game. We got good guys in the room. And they want to do it."
You can follow Mike Mazzeo on Twitter: @MazzESPN