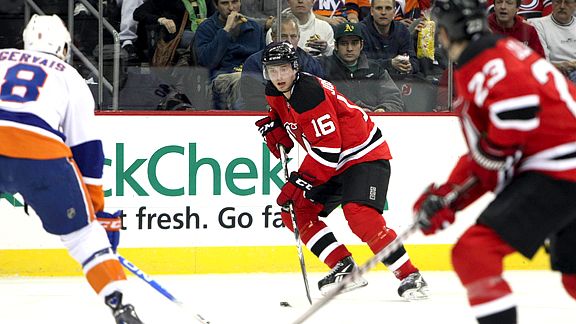 Alan Maglaque/US Presswire
Six days after his first point, Jacob Josefson notched his goal. Both came against the Isles.NEWARK, N.J. -- It took 14 games, but New Jersey Devils rookie center Jacob Josefson finally scored his first NHL goal. It came on Saturday night in his team's 3-2 overtime victory over the New York Islanders at the Prudential Center.
Just 1:57 into the first period, Josefson came charging in on the forecheck, took the puck away from Islanders defenseman Bruno Gervais and sent a shot from behind the net that deflected off goaltender Al Montoya's left skate and in.
"I think it was pretty lucky goal," said Josefson, who added an assist and now has three points on the season. "I got the puck behind the net. I tried to get in on goal and maybe got a rebound out of it, but it went in. It was an ugly goal, but every goal counts. And it was a great feeling to see it go in."
The 20-year-old Swede said it was worth the wait.
"Yeah, I mean obviously you want the first goal in the first game," Josefson said. "But for me it doesn't matter who does the points as long as the team wins.
"Of course. I want one. So it was a really good feeling to see it go in."
Josefson said after he scored, his new linemate, right winger David Clarkson, scooped up the puck for safe keeping. It's the perfect souvenir to highlight Josefson's first big-time NHL milestone.
Josefson recorded his first NHL point last Sunday, also against the Islanders.
You can follow Mike Mazzeo on Twitter: @MazzESPN