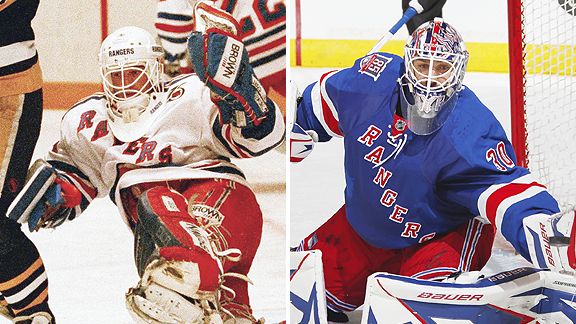 AP Photo, Getty Images
Beezer (left) and King Henrik.
The spring and summer of 1986 are best known for the accomplishments of the New York Mets. But while the Mets' run to a championship was just beginning that April, a rather unimpressive regular season was concluding for the New York Rangers.
When I watched this 2011 Rangers team struggle to the finish line -- a journey that concluded in extremely satisfying fashion with the clinching of a playoff spot on Saturday night -- I couldn't help but remember the impression that the 1986 Rangers left on this then-11-year-old fan, just beginning to pick up on the excitement of the many different sports that would gradually become an obsession.
In thinking about it, there seemed to be some common bonds between the Rangers team of 25 years ago and the current team, whose postseason starts tonight. In doing the research, I found a few.
Just as these Rangers had to claw through the final weeks to make the playoffs, so did that 1985-86 team, netting a key win over the NHL's best regular-season team, Wayne Gretzky's Edmonton Oilers, in the final days of the season to put themselves in playoff position.
• Both teams had one goal scorer who battled injuries and a stint in the coaches' doghouse. Before Marian Gaborik, there was Pierre LaRouche, a tremendous talent who scored 20 goals in 28 games but feuded with head coach Ted Sator. Thankfully, he was fully healthy when he was needed most, scoring six goals in the postseason. John Tortorella can only hope he gets the same measure of production from Gaborik, who was fantastic last season but slumped significantly this year.
• Both groups lacked any other offensive forces that an opponent had to consistently worry about. The Rangers' leading scorer this season, Brandon Dubinsky, finished with just 54 points, the fewest of any player to lead a Rangers playoff team since the NHL-WHA merger in 1979-80.
The 1985-86 Rangers finished the regular season with the second-fewest goals in the NHL. Their top point scorer, young up-and-comer Mike Ridley (traded the following season in a disastrous deal), scored just 65 points, at a time in which most teams had at least one player who averaged a point-per-game. No Rangers regular netted more than 25 goals.
Much like the current team has a bit of a lunchpail quality (as hockey fans would call it), the 1986 squad had that to an extent as well. One of its key leaders was a smart, albeit very physical young forward who would go on to become the general manager of the Capitals team that the 2011 Rangers will be facing -- George McPhee.
• Both the 1986 and 2011 teams had a clear-cut MVP -- their No. 1 goalie. As valuable as Henrik Lundqvist was to the Rangers this season, John Vanbiesbrouck was just as important to the 1985-86 team.
Vanbiesbrouck won the Vezina Trophy for being the NHL's top goalie that season, the last Ranger to do so.
How valuable was he? Consider this:
That season, Vanbiesbrouck went 31-21-5 with a 3.32 goals-against average. The other three netminders that year were 5-17-3, with a 3.56 GAA.
The team endured an awful stretch from its backup goalies early in the season, with none winning a game until the season had passed the midpoint. Good thing for the Rangers that once the playoffs came, they had their best goalie playing his best hockey.
The 1985-86 team finished with a sub-.500 record and 78 points, 32 fewer than their first-round opponent, the Flyers, who had won six of seven meetings during the regular season. This proved to be no matter to the Rangers. Buoyed multiple phenomenal performances from Vanbiesbrouck, the Rangers won the best-of-five series in five games, winning twice in Philadelphia, including the series-clincher.
In the second round, the Rangers drew a Capitals team that finished with 107 regular season points, whose roster included four 30-goal scorers and a player who would go on to be one of the NHL's all-time great defensemen, then-22-year-old Scott Stevens.
One of the most amazing statistics about that 1986 Rangers team was one that left a strong enough impression that it could be recalled by this stat nut 25 years later. I would rate it as one of my all-time favorite sports stats, which is saying a lot considering that I work in a business in which I am surrounded by great sports stats.
That team played 13 overtime games that season and won NONE. The record was 0-7-6 (ties were declared after five scoreless minutes of OT) and there were some disastrous defeats, with recollections of a blown three-goal third-period lead against the hated Devils still ringing in my brain.
When Game 1 of the Capitals series was deadlocked after three periods, I remember thinking how the Rangers were doomed, but it took only 76 seconds of extra hockey for that streak (and a nine-game Capitals overtime win streak) to end.
The unlikely hero was Brian MacLellan, whose claim to fame that season was positing a combined minus-33 plus/minus rating for the Kings and Rangers. His game-winner on a breakaway gave the Rangers a 1-0 series lead. In a funny coincidence, MacLellan is currently the director of player personnel for the Capitals.
Three games after their first overtime win, with the Rangers down 2-games-to-1 in the series, there was another minor miracle.
A defensive zone turnover by Stevens ("one of the most surehanded defensemen in hockey history," Vanbiesbrouck said) led to forward Bob Brooke firing a shot past stunned Capitals goalie Pete Peeters for another overtime triumph.
"We got a lot of breaks," said Vanbiesbrouck, now the owner of two Michigan-based hockey video-related businesses, whom we called to confirm some of our childhood recollections. "We had a lot of timely goals. When you get hot in overtime in the playoffs you think you can do a lot of good things."
The Rangers did some pretty good things after that, winning the next two games to take the best-of-7 series in six games.
The reason that a lot of people forget about that Rangers team is because of what happened next.
You couldn't have known it at the time, but there was no shame in losing to the Montreal Canadiens, whose goalie, then-rookie, Patrick Roy, was amazing in a five-game series triumph.
The Canadiens would go on to win the Stanley Cup. Roy would establish himself as an all-time great. The Rangers would plod, struggle, and make their fans suffer for eight more seasons until finally ending their 54-year Stanley Cup jinx in 1994.
But that doesn't mean that the 1986 Rangers failed by any means.
"We didn't win the Stanley Cup, but we still had success," Vanbiesbrouck said. "That's still a possible outcome."
Indeed they did. They made a hockey fan out of one young viewer who will be watching closely tonight when this postseason begins.
Mark Simon is a researcher for ESPN Stats and Information. Follow him on Twitter at @msimonespn.