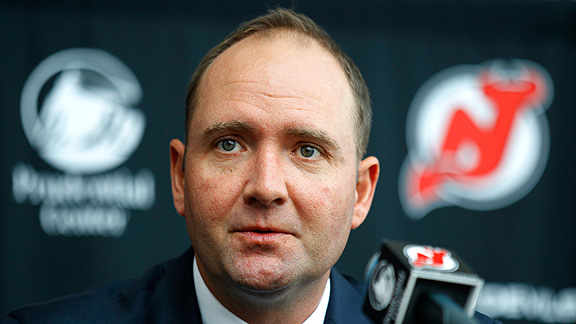 AP Photo/Julio Cortez
On Tuesday, the Devils introduced Peter DeBoer as their new head coach.So what should we make of Peter DeBoer being hired as the head coach of the Devils?
One thing was pretty much certain after New Jersey missed the playoffs for the first time since 1995-96: GM Lou Lamoriello was not going to hire a first-year head coach again. Not after the John MacLean experiment had blown up in Lamoriello's face.
MacLean's team couldn't score or defend. The coach clashed with -- and sat -- superstar Ilya Kovalchuk. And MacLean was gone after a 9-22-2 start.
DeBoers isn't Ken Hitchcock or Michel Therrien. He's not the sexy choice. He doesn't really have a track record. He's never made the playoffs before (he was with the Panthers, though).
Yet one thing stood out to me during his news conference Tuesday afternoon: He sounded like he knew what style he wanted to play. And he wasn't afraid to say that the Devils were going to be a defensive-minded hockey club, which has been their calling card for decades.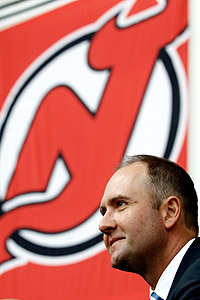 AP Photo/Julio Cortez
Peter DeBoer arrives in New Jersey with a 103-107-36 coaching record.
"We want to pursue the puck. We want to dictate the pace of the play," DeBoer said. "At the same time the foundation of that is still good, solid defensive hockey and playing the right way, and I think that meshes perfectly with what they do here."
MacLean never wanted to say that. Here's what he said during his introductory news conference last season:
"People say, 'You're going to play all defense.' No, we're not going to play all defense," MacLean said. "I was an offensive player. We're going to have to score goals. There has to be parameters on things, but there also has to be some leeway."
MacLean also talked about playing "winning" hockey. We just never found out what that was.
MacLean's presser featured great fanfare. A lot of players showed up.
There was none of that at DeBoer's presser. Simple. Plain. Business-like.
DeBoer said it himself: The Devils are going to have to score goals. Just over two goals per game isn't going to cut it.
Whether the Devils want to admit it, DeBoer needs to gain Kovalchuk's respect. He knows it too.
Kovalchuk looked like a different player under Lemaire, a superstar committed to playing two-way hockey.
If Zach Parise comes back healthy and Kovalchuk and Martin Brodeur play at the elite levels they played at in the second half, there's no reason the Devils can't compete for a playoff spot and make a run.
This team has talent. Plenty of it. We saw it in the second half.
DeBoer just needs to make it work. Otherwise, he'll quickly find himself on the unemployment line.
"You'd always like to have stability, but the thing about it is, you want to win," Lamoriello said. "Stability brings winning, but if you're not winning, what good is stability? It's as simple as that, and I don't apologize for that."
So what do you guys think? Do you like the hire? Do you dislike it? Comment below.