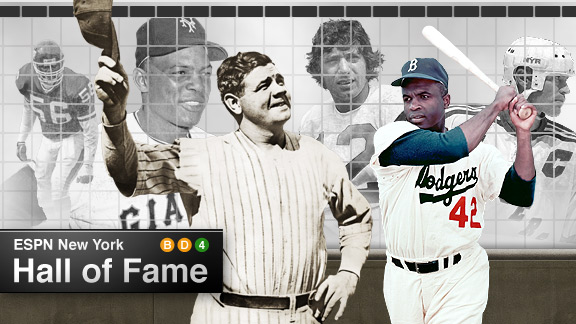 ESPN.com illustration
Vote: Pick the ESPN New York Hall of Fame class
In honor of ESPN New York's inaugural Hall of Fame ballot, here are my top five Islanders:
1. Mike Bossy: He was Gretzky before Gretzky. An amazing goal scorer. He had 573 goals in just 752 games. Only his bad back stopped him at age 30.
Denis Brodeur/Getty Images
Mike Bossy is among the New York Hall of Fame finalists: Top 20

• Hall of Fame video

2. Billy Smith: Not only could he win big games, he was a tough guy on the ice, too. He was a fiery goalie that opponents' fans loved to hate. But we loved No. 31 in New York.
3. Bryan Trottier: Just a machine when it came to scoring, with 853 assists and 500 goals as an Islander. The Isles were always a scoring threat with Trottier on the ice.
4. Denis Potvin: A dual threat on the ice. The captain wasn't just a defensive stopper, he also amassed 742 assists and 310 goals.
5. Clark Gillies: The left winger was still able to get his with Bossy and Trottier on the same line. Had more than 300 goals and 300 assists in his career.