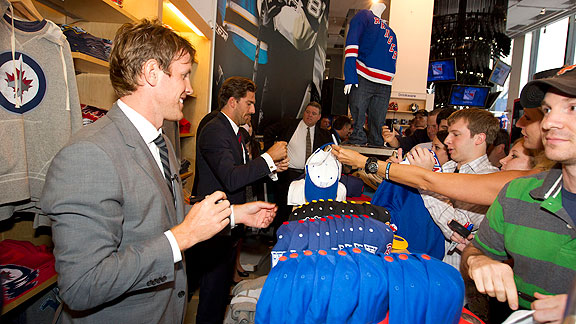 Rebecca Taylor/ MSG Photos
Rangers Henrik Lundqvist and Brad Richards sign autographs in Manhattan on Thursday.The NHL has seen its share of bad news these past few months. Three deaths of current or former players coupled with Wednesday's plane crash in Russia that killed 43 people, including many players from the KHL, has left the hockey community stunned.
With training camps beginning shortly, players are going to have to try to move on from a summer that has affected many of them, be it directly or indirectly.
"You just try to stay positive and remember good things about them and we have to move forward and think about the good things of the sport," Rangers goalie Henrik Lundqvist said while appearing at the NHL Powered by Reebok Store in Manhattan for a question and answer session with teammate Brad Richards. "It's been a tough summer but it's getting closer and closer to the season and we talk about all the good things this game brings and not only the negatives with some tragic incidents but also concussions and things like that. We try to be positive. We talk about the good things also and not get sucked in all the bad things happening."
Lundqvist, who lost teammate Derek Boogaard in May and knew Lokomotiv Yaroslavl goalie Stefan Liv, who died in the plane crash, said he's still in shock at what happened Wednesday. He added that players need to look out for each other and make sure that their teammates are in good health. The NHL also lost Winnipeg forward Rick Rypien and former skater Wade Belak in the past few months.
Richards, who signed with the Blueshirts in the offseason, played in Dallas with Karlis Skrastins, who also died in the plane crash. He had played against some of the others who died in the crash and also expressed shock over the tragedy.
"Obviously not the best of summers for all that news but we all believe truly it's just a bad coincidence and everybody has been touched by someone at one of the four events, if not all of them, and we're going to grieve and we're going to think about it," Richards said. " We've all known someone [affected] but we are also going to move on and get more help for each other if there [are] people [who] need it.
"Talk about hockey, it happens in everyday life. It's just that we're a little more in the spotlight and there's tons of issues in everyday life that shows we're not immune to it and we're not above that. We still get affected by everyday life."
After signing Richards, while retaining their core, the Rangers seem poised to contend in the Eastern Conference.
"Personally I think we're a better team than last year," Lundqvist said. "We did a great job over the summer to re-sign guys, so that's a great feeling and we added Brad and (Mike) Rupp and some other guys, so it's exciting, I'm really excited about this year, we have a lot of things going on and I think the team looks better than last year, so the expectations should be higher."