NEW YORK -- While the NBA remained closed for business Wednesday, as a second day of critical labors continued with a federal mediator, Madison Square Garden opened its doors to showcase its newest renovations.
What started right after the New York Knicks' season ended in April, with 1,000-plus construction workers on site at any given time of the day, Phase 1 of the arena's three-year transformation was completed in time for the fall sports seasons.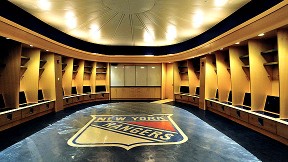 Jeff Skopin /ESPNNewYork.com
Officials at MSG revealed Phase 1 of renovations, which included a refurbished Rangers locker room.
On Wednesday, MSG president and chief executive officer Hank Ratner, who is spearheading the $850 million project (the most expensive in history for an active arena), gave a guided tour for a select group of media. What they experienced were better viewing areas in the upper levels, a wider and enhanced sixth-floor Madison Concourse, refurbished Knicks and New York Rangers locker rooms, a behind-the-scenes lounge area that would rival any trendy hotel's and event-level suites that will change the corporate hospitality game in a live-action sports setting.
The Madison Concourse, the main one in the building, now has higher ceilings and it's 50 percent bigger, in large part due to removing unnecessary office space. Interestingly, the TV monitors throughout the area are controlled by one main switch and the beer at each concession stand comes from one main source, so every keg can actually be eliminated. In addition to regular food, such as hot dogs and soft drinks, the concourse will feature exclusive dishes from elite chefs and restaurateurs that only MSG will have. For example:
• Jean-Georges Vongerichten's "Simply Chicken," a chicken hot dog with kim chee and spicy mustard;
• Andrew Carmellini's "Sausage Boss," an Italian link pizzaiola and sweet peppers;
• Drew Nieporent's "Daily Burger," a burger with cheese, bacon and onion jam;
• Jeremy Marshall's "Lobster Shrimp Roll by Aquagrill," a lobster shrimp roll on a toasted split New England roll.
"We think the Garden is basically the family room for New York," Ratner said. "New York is one of the food capitals of the world, so one of our goals in the transformation was also to transform the food experience here. So we set out and we talked to the great chefs and restaurateurs in New York and we challenged them to come up with signature items that they would only make available at Madison Square Garden. But the hot dog's still hanging in there (laughs)."
In the locker rooms, Ratner pointed out the ceilings replicated the actual Garden's. But he said the most distinguishable aspects was their circular (Knicks) and oval (Rangers) shapes. That was in direct response to the feedback from both teams, which stressed unity.
"The players and the coaches wanted a change," Ratner said. "Locker rooms are traditionally rectangular. They wanted something that didn't have corners and everybody was sort of similar in location."
For the 800 top season-ticket holders who have access to the new Delta Sky 360 Club, the arena's new chic, backstage lounge area, they'll be able to see Knicks and Rangers players walk into arena through a glass divider. On the other side, they'll be able to watch MSG Network host live studio shows while they're eating, drinking and schmoozing.
But the biggest luxury of all will be for those hanging out in the sold-out 20 event-level suites. Whereas before the suites were on the 10th floor, they've now taken over the lowest part of the lower bowl. In fact, for Rangers games they'll be right up against the glass (about eight rows from the court for Knicks games). While Ratner couldn't comment on the buyer names, he did say they're "the who's who of corporate America." Not only will 10 to 12 people be able to fill up the seating on the outside, but they'll be able to enjoy a downstairs room, resembling a five-star studio suite, filled with plush couches and an enormous flat-screen television.
"It's the best of both," Ratner said. "You get the best seats in the building and you get an incredible hospitality space that really doesn't exist anywhere else in arenas."
Add the Garden's upcoming Chase Bridges to that list. By the time Phase 3 completes the full transformation in 2014, the arena will feature literally two suspended seating areas that will extend from the less-obstructed 10th floor and go across to the other side. Ratner said each bridge will seat 500 fans, but it will not affect the overall capacity; it will remain the same as it is now (roughly 20,000).
"They will be unique to MSG," Ratner said. "It was easy for me to come up with the idea, but the architects might disagree (laughs). The bridges are quite an architectural feat and we're quite excited about them. They will enhance the viewing in the upper bowl because they will have monitors and ribbon boards providing more information."
While the first event inside the Garden is on Sunday, featuring a massive musical festival called SMTOWN LIVE, and the Rangers season starts next Thursday, renovation will continue throughout the fall but not inconvenience fans. Future plans include 58 new Madison Suites and Club, an enhanced upper-bowl seating area and eighth-floor Garden Concourse, remodeled Garden Suites on the ninth floor and a state-of-the-art scoreboard. When asked if the NBA lockout will mean more time to build, an MSG representative said, "No. There will be always something going on. It's MSG, after all."
For the Knicks and Rangers upcoming seasons, Ratner said the ticket renewal rates are "really stellar by league comparison." It's 90 percent for the Knicks and more than 85 percent for the Rangers. Ratner is very excited that both basketball and hockey fans are on board for another great year, and he is committed to creating an arena atmosphere that many fans can enjoy -- no matter what kind of ticket they're holding.
"We've got great amenities that most people can get no matter where they're sitting in the building," Ratner said. "I can't wait to see all of our other fans come back into the building and watch their amazement as they come see the transformation. This is just year one of a three-year process and we plan on using transparency, communication and getting the feedback from our fans so we can build the best building for them."