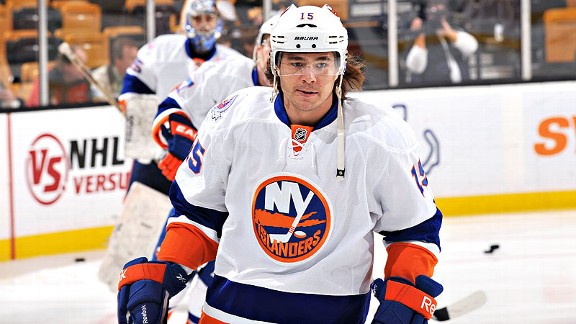 Steve Babineau/Getty Images
PA Parenteau and his teammates know the burden's on them to turn the Islanders' season around.PA Parenteau had trouble sleeping Monday night following the Islad straight shutout loss.
The memory of last season's dreadful skid has resurfaced in wake of the team's current stretch -- 12 losses in 14 games, including two consecutive shutouts that revealed a lost and listless squad.
There was little season to salvage last November when Scott Gordon was fired after a 4-10-3 start. And if the 5-10-3 Islanders don't gain some traction soon, there may be little left to salvage yet again.
As scrutiny intensifies around the beleaguered organization -- questions about job security, personnel changes and the overall direction of the team -- players know it's on them to find the answers.
"You want to win at all costs because of what happened last year, but our record is pretty much the same," Parenteau said. "We definitely have to turn it around before it's too late."
Perhaps the most concerning part of the latest skein is the team's apparent lack of emotion during what should be considered very dire times. There have been intermittent outbursts and the occasional stick broken in frustration, but recently the team seems to be flat-lining.
"That's been the most embarrassing thing to me, myself included," Matt Moulson said. "All of us, every single one of us, to come out two games in a row like that is unacceptable."
Captain Mark Streit is about as steady as they come, but the mild-mannered Swiss defenseman has seen his temper tested in recent weeks with the general lack of desperation.
"Emotions play a big part in professional sports. You need it in the dressing room, on the bench and out on the ice. Energy feeds off emotion and right now, we need more of it," he said.
Gone is the resolve the team displayed during the second half of last season. Instead, the Islanders seem to crumble after falling behind early or giving up a key goal.
"The emotion's there when we start the game but when things don't go our way, there aren't any emotions after that," Parenteau said.
What needs to be done?
"I think the only thing we can do as players is work hard and try to find another gear," Parenteau said. "Try to find that fire we had last year."
Said Moulson:
"Ultimately, it comes down to us in this room, guys that are here. We proved at the start of the year we could win. We just have to find a way to come together."