NEWARK, N.J. -- Chris Kunitz ended Martin Brodeur's bid for his first shutout of the season, scoring a goal with 10:35 remaining in the third period.
Brodeur wasn't giving up another.
The 39-year-old goaltender made 29 saves -- including a key glove stop on Matt Cooke with 4:36 remaining in the third -- lifting the Devils to a 3-1 victory over the Penguins on New Year's Eve in front of a sellout crowd at the Prudential Center.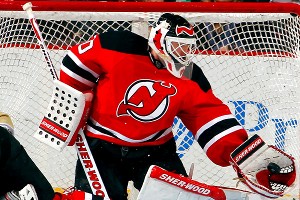 Paul Bereswill/Getty Images
Martin Brodeur, who made his Devils debut in 1992, sent the team into 2012 on a winning note.
"That was as solid as he's looked all season," Devils coach Peter DeBoer said.
"He deserved the first star," top-line winger Ilya Kovalchuk said. "He looked like he was 25 out there."
"Early, late," captain Zach Parise said. "He was on top of his game."
That hasn't always been the case for Brodeur this season. At times, the 18-year veteran (11-9-0, 2.86 GAA, .892 SV PCT in 22 starts) has looked rather ordinary between the pipes.
Not on Saturday afternoon, though.
"I thought we played in control against a team with firepower," said Brodeur, who earned his 11th victory of the season, third straight and the NHL-record 636th of his career. "We were able to shut them down."
Brodeur was tested throughout the game. He stoned Alex Kennedy on a breakaway late in the second, but saved his best for last.
The Devils led by just one 15:24 into the third when Cooke got free on the doorstep and ripped a shot that could've tied the game. But somehow, someway, Brodeur moved over and got a piece of the puck with his mit.
"I knew he was there because that's just the way the play developed," Brodeur said. "I saw our defenseman going really low. I knew exactly where I was and I just blocked as much space as I could. It was just a reaction and it hit the top of my glove, went off the side of the post and went wide."
Brodeur also made a pad stop on Kunitz with 1:34 left, and Parise's empty-netter 44 seconds later sealed the deal.
Exactly a year ago to the day, the Devils were 10-25-1. John MacLean had just been fired, and the franchise was well on its way to missing the playoffs for the first time since 1995-96.
Of course, things are a lot different now. Sitting at 21-15-1, the Devils are right in the thick of the Eastern Conference playoff race.
"It's night and day," Brodeur said. "Winning will do that."
The Devils realize there's still a lot of work to be done. They want to become a more consistent team. That will happen if Brodeur was as good as he was on New Year's Eve.