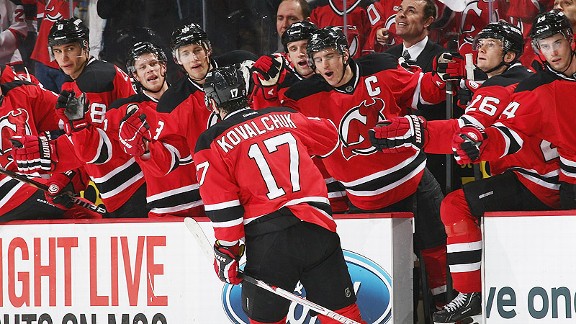 Andy Marlin/NHLI/Getty Images
Ilya Kovalchuk brought the Devils to their feet with his penalty-shot goal.NEWARK, N.J. -- Devils coach Peter DeBoer wouldn't take credit for Ilya Kovlachuk's penalty-shot goal in the first period on Saturday afternoon.
"I give [assistant] Adam Oates credit," DeBoer said after the Devils beat the Penguins 3-1 at the Prudential Center. "That was the first name out of his mouth. Adam's scored a lot more points than I ever have, so it would be silly not to take that advice."
With 5:17 left in the first, a Pittsburgh defenseman closed his glove on the puck in the crease. Kovalchuk followed by moving in with speed on the ensuing penalty shot before beating netminder Marc-Andre Fleury five-hole with a quick wrister to give the Devils a 1-0 lead.
It was Kovalchuk's second career penalty shot goal in three attempts. Ironically, it was Fleury who stoned him on the only one he missed back in March 2010.
Kovalchuk didn't know why, but he actually thought about that before the game.
"My plan was to score a goal," Kovalchuk said. "You take what the goalie gives you. I think he was waiting for me to go high glove. I just freezed him a little bit and the five-hole was open. I think he stopped me last year. Now it's one-to-one."
Kovalchuk is tied with teammate Zach Parise for the NHL lead with six shootout goals.
"[Peter] didn't ask me or anything. He just told me I'm going," Kovalchuk said. "It's nice when the coach trusts you, and when you produce, it's even better."
"The thing about Ilya is, he thrives in those types of situations," DeBoer said.
INJURY UPDATE: Defenseman Anton Volchenkov left Saturday's game with a lower body strain.
Volchenkov said he suffered the injury while killing a penalty during the first period. The 29-year-old veteran, who has recorded five assists in 34 games this season, tried to go out for a shift during the second, but couldn't continue.
"We'll know more [Sunday]," DeBoer responded when asked if he through Volchenkov could play in Ottawa on Monday. "We'll see how he feels in the morning."