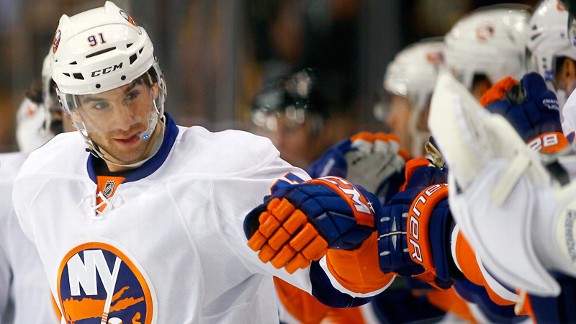 Greg M. Cooper/US Presswire
Your New York Islanders? Not so good. All-Star John Tavares? Very good -- and getting better.There have been few bright spots for the Islanders lately.
John Tavares has been one of them.
Amid a disappointing season rife with dashed expectations and false hope, Tavares has blossomed into what one teammate deemed "a legitimate superstar."
The 21-year-old center's production has not been dampened by the team's downtrodden first half; instead Tavares has shouldered the load with a team-leading 40 points -- 15 goals and 25 assists.
The newly-named All-Star, who has a whopping 13 points in the past seven games, has ascended in his third year as a pro.
"If you look at All-Stars, it's what an individual does for their team," coach Jack Capuano said. "We've got guys who are having good years, don't get me wrong, but John has elevated his game and taken it to another level."
Gone is the precocious 19-year-old who broke into league as a supremely talented No. 1 draft pick who at times seemed burdened by his own expectations.
Tavares no longer struggles with the pace or size of the game. Now his teammates marvel at his strength on the puck, his ability to win battles down low. His sheer determination has always been there, sure, but now his game has matched his forceful will.
"I just think it's a combination of everything I've learned the past two and a half years," Tavares said. "I've gotten stronger, I've learned the things I've had to work on and I understand the game better -- getting through the whole 82-game season, the grind and the toll it can take on you mentally and physically.
"I just feel like I'm getting stronger out there and more comfortable and it's translating on and off the ice for me," he said.
Tavares' strength on the ice has been complemented with significant growth off the ice. He exudes a reserved self-assuredness and has learned to keep an even keel rather than suffocate under the weight of self-criticism.
"His first year, when things wouldn't go right, he'd get frustrated. Nothing crazy, by any means, but I think he has such a level head now," said good friend and linemate Matt Moulson, who has a team-leading 20 goals. "Obviously that comes with maturity as a player and as a person."
Like the rest of his Islanders teammates -- who find themselves in last place in the Eastern Conference with an abysmal record of 15-20-6 -- Tavares is frustrated by the team's position.
"You'd love to be in a playoff spot. It's been up and down all year for everybody. We just want to find some consistency and get on a roll, make things interesting for ourselves," he said.
Tavares will do everything he can to make that happen -- with the assurance of an All-Star.
"He's not much of a gloater, but I know he's proud," Moulson said of Tavares' accolades. "I'm extremely happy for him. He's worked extremely hard to get where he is. It's good to see him get some recognition. He's one of the best in the league."