The Devils delivered another thrilling third-period comeback, toppling the Canadiens 5-3 to conclude a six-game homestand, but the team's second consecutive win featured what could be a troubling loss.
With the team rallying in the third, rookie defenseman Adam Larsson went down with what the Devils are calling a "bruised lower back".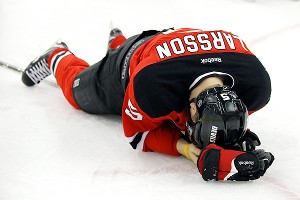 Ed Mulholland/US Presswire
The Canadiens rocked Adam Larsson with a pair of big hits on Thursday night.
Larsson had to be helped off the ice by two teammates after a teeth-rattling hit from Montreal's P.K. Subban lifted him off his skates and left him down on the ice for several minutes. Larsson left with 5:58 remaining in regulation and did not return.
After the game, Devils coach Pete DeBoer said he didn't believe Larsson's injury was too serious. Larsson was not available to the media after the game.
"From what I understand it looks like just a bruise," he said.
DeBoer had no problem with the hit Larsson took from Subban, who received no penalty on the play.
"I thought it was a clean hit," he said.
DeBoer said it was too early to tell whether the rookie defenseman will be available for this weekend's back-to-back set, but Larsson suffered more than one hard hit in a high-intensity, physical game between the two teams. Larsson was slow to get up earlier in the game after a hit from Montreal's Mathieu Darche left a cut on his right cheekbone.
"He's trying to make a difference in the game. That's his mentality. He's that type of player. He's grabbing the puck and going with it in the tough areas and he took some tough hits doing it. I give him full marks," DeBoer said of the first-year player. "He's a tough kid that's trying to make a difference in an important game."
Should Larsson miss any time, it would be a crushing blow to the Devils' already-battered blue line. Veteran defenseman Henrik Tallinder is questionable for the rest of the season; he was placed on injured reserve Jan. 19 with acute thrombophlebitis in his left leg. The team just recently returned Andy Greene, who missed two months with an injured foot, and was forced to dress seven defensemen Thursday with Bryce Salvador battling through an ankle injury suffered in the Devils' 4-3 shootout win over the Rangers on Tuesday night.
Defenseman Kurtis Foster was also banged up in the first after a hit by Darche into the boards. After leaving the ice before the end of the period, he returned to start the second, but didn't play for long. After committing a turnover that led to Montreal's shorthanded goal in the second, Foster played only one more 16-second shift the entire game.
Foster said it had nothing to do with his health, however.
"I was just benched."