An atrocious start buried the Rangers and backup goaltender Martin Biron as the Blackhawks snapped a nine-game winning streak with a 4-2 win at Madison Square Garden.
With Vezina Trophy frontrunner Henrik Lundqvist on the bench, Biron was shelled for four goals in the first 9:38 of play, a damaging hole that doomed the Rangers to their first loss in five games.
Making his 14th start of the season, Biron surrendered two goals on the first three shots, four on the first seven, but the steady backup was hardly the sole culprit. Of the Blackhawks four goals, one was on a Jonathan Toews penalty shot and two came on breakaways caused by defensive miscues.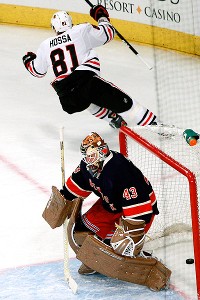 AP Photo/Frank Franklin II
Martin Biron's Blueshirts never recovered from a four-goal first-period deficit.Toews' successful penalty shot -- awarded after defenseman Dan Girardi was whistled for covering the puck in the crease -- came only 1:05 into play in what was one of the team's worst starts to date.
"It's the beginning of the game. It's one of those situations where you have a chance to give your team some momentum. I didn't come up with it," said Biron, who entered Thursday's match with an impressive 10-2-1 record. "It's a chance for a goaltender to make a save to give your team either momentum or to save the game, or whatnot. That was my chance to make that big save. That was going to kind of set the tone for us and give us that chance to move forward, and I didn't do it."
Instead of rallying around Biron, the Rangers sputtered, allowing a desperate Chicago squad put up another trio of goals before the halfway point of the period.
Tortorella called a timeout after the Blackhawks' fourth goal -- scored by Marian Hossa on a partial break -- but said he never considered pulling Biron.
"Not for a second," Tortorella said. "He didn't need to be pulled. He needed to work through it, and he did."
Paying no mind to the merciless Garden crowd that jeered him while he was struggling, Biron rebounded well after the first, pitching two scoreless frames after the first intermission.
"That's what I love about him," Tortorella said. "He made some really good saves. There wasn't a second I was thinking about taking him out."
Defenseman Marc Staal notched his first goal of the season and rookie forward Carl Hagelin scored to cut Chicago's lead in half with less than five minutes to play in regulation, but the four-goal deficit proved too much to surmount.
The Rangers might have been able to whittle the lead to one goal had a premature whistle not robbed them of a scoring opportunity in the second, but the team had no business being in the hole to begin with.
"We weren't good enough in the first. We were giving up breakaways, we weren't good defensively. You're going to have periods like that," Ryan Callahan said. "I think we responded well, but a four-goal lead in this league is obviously hard to come back from."
Said the captain: "They outplayed us in the first, no question. Whether it was because they were more desperate, I don't know."