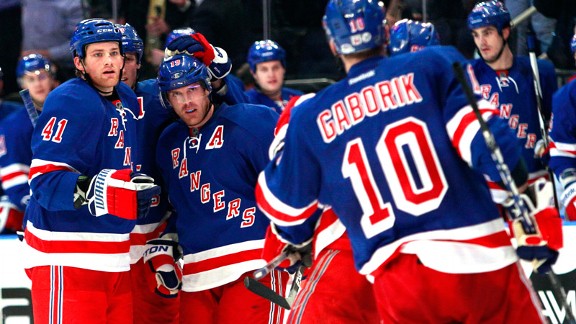 AP Photo/Frank Franklin II
Brad Richards (center) scored twice against Carolina on Tuesday night.Coach John Tortorella didn't know what to expect when he put together rookie Carl Hagelin, centerman Brad Richards and sniper Marian Gaborik.
Hagelin and Richards forged some chemistry in recent weeks, but Richards and Gaborik, penciled in to play with each other since training camp began, never quite worked.
But with Richards on a three-game point streak and showing glimpses of the dynamic playmaker the Rangers so coveted when they inked him to a nine-year deal this summer, Tortorella gave it a try.
It worked.
The trio delivered a phenomenal performance in the Rangers' 4-2 win over Carolina, combining for nine points to boost the Rangers to their second straight win of a seven-game homestand.
Richards recorded his second multi-goal game, while both Hagelin and Gaborik finished with one goal and two assists apiece.
"It was one of those nights where it just seem like everything connected for them," said goaltender Martin Biron, who made an unexpected start with Henrik Lundqvist felled by the flu.
Hagelin's speed, coupled with Richards' vision and Gaborik's dazzling effort offered a flash of what a truly threatening top line the Rangers might roll out as the postseason nears and the stakes climb.
The three may not have worked earlier this season, not with Hagelin still adapting and Richards fighting bouts of inconsistency, but they fit seamlessly Tuesday.
Tortorella said he tried the unit together for intermittent shifts here and there over the past month and saw something he liked.
"I thought there was something going on," he said. "You never know."
Richards' play of late has been the impetus. With five goals and seven points in the last three games, he has stepped up in the absence of captain Ryan Callahan (out with a bruised right foot) to set the tone for the Eastern Conference-leading Blueshirts.
He's creating plays and finishing, too. After beating Hurricanes goaltender Cam Ward high-glove at 10:12 of the second, he fired another past him from the slot less than three minutes later to give the Rangers a 3-0 lead.
"Richie's seeing the ice better. Obviously, he's the key," Tortorella said. "That's the biggest strength of his game is seeing the ice. I think he feels more confident there. Gabby's giving and going -- he doesn't want to carry the puck all the time. To me it's [Hagelin]. He chases down pucks, they have puck possession because he's always chasing down pucks, and he can make a play."
The 23-year-old winger wore the Broadway hat after this first three-point performance of the year. Richards said his growth and development have been dramatic even in the last few weeks.
"He made some good passes tonight. When I started playing with him a few weeks ago, he probably wouldn't have made them, so you can tell he has this confidence," Richards said. "He's seeing the ice. I think all three of us did tonight."
Thursday should be a good test to see if they can do it again.
If that was a one-game audition, the three players will certainly receive an encore with Sidney Crosby and the Pittsburgh Penguins headed into town.