Welcome back to the playoffs, Ryan Callahan.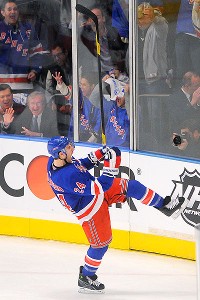 Will Schneekloth/Icon SMI
Ryan Callahan announced his return to the playoffs with the game's first goal.
In his first postseason match since 2009, the Rangers' captain set the tone by tallying the game's first goal and igniting the already-rabid Garden crowd in Game 1 of the Eastern Conference quarterfinals.
Callahan slid a sharp-angle rebound behind Senators goaltender Craig Anderson to give the Blueshirts a 1-0 lead 12:01 into the first period, the first of four Rangers goals en route to a 4-2 win against the Senators on Thursday.
"It was good to get that one out of the way," said Callahan, who missed last year's first-round series against the Capitals with a broken ankle.
As they have all season, Callahan's efforts went beyond his offensive contributions. He delivered two of the game's biggest hits -- crushing former teammate Matt Gilroy into the end-boards, then on delivering a hearty blow against Jesse Winchester in open-ice -- in one shift and finished with a team-leading seven overall.
Fitting that it was the captain who earned the first Broadway Hat of the Rangers' 2012 Stanley Cup playoffs run.
Said teammate Brian Boyle:
"He was a monster."