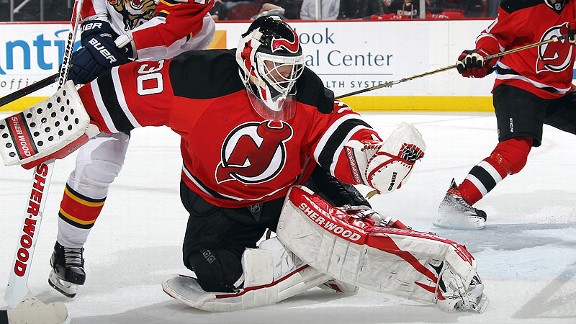 Bruce Bennett/Getty Images
NEWARK, N.J. -- Martin Brodeur owns what feels like a million records.
So the only thing the 39-year-old goaltender noted about his latest record was that it led to a win.
Brodeur stopped all 26 shots he faced to record his 24th postseason shutout, breaking a tie with Patrick Roy for the most in NHL history, and the New Jersey Devils rolled to a 4-0 victory over the Florida Panthers in Game 4 of the Eastern Conference quarterfinals at the Prudential Center.
"The playoffs are the playoffs," Brodeur replied when asked whether a playoff record is more special than a regular-season record. "That's what hockey's all about. But again, I don't pay attention to it. I've been fortunate enough to have a lot of these records now, and it is what it is. I just want to win."
The best-of-seven series is tied at 2. Game 5 is Saturday night at the BankAtlantic Center.
According to ESPN Stats & Information, Brodeur ranks second to Roy in postseason wins (151-101), games played (247-185), minutes (15,209) and losses (94-83), and third in goals-against average (2.01).


And to think, just 48 hours ago, the future Hall of Famer -- arguably the best goaltender of all time -- didn't know whether he would even start Game 4 after being yanked just 22 minutes, 18 seconds into Game 3.
Coach Peter DeBoer put any doubts to rest, however, when he anointed Brodeur Thursday's starter in his postgame news conference.
"It wasn't really a decision," DeBoer said. "I knew when we took him out of the last game I was going to start him again. He's been our go-to guy the entire second half of the year, and he's played exceptional for us. It wasn't really a decision."
Even so, in the lead-up to Game 4 there were still fans calling for Johan Hedberg between the pipes instead of Brodeur.
"I think what separates him from ordinary goalies isn't just his talent, it's his mental makeup," DeBoer said. "I think that's what separates him. And I think that's what allowed him to play as long as he has. He's just mentally tougher and able to handle those highs and lows without it affecting his game."
This isn't Brodeur's first rodeo, after all. Last season, after getting off to a 5-18-1 start, he was old, washed-up, finished, they said. But he ended up turning it around. And this season it was déjà vu: a 14-12-2 first half followed by a much-improved 17-9-2 second half.
So when Brodeur bounced back, DeBoer wasn't surprised.
"That's vintage Marty Brodeur," he said. "And we've come to expect that around here."
And neither was Brodeur.
"What happened last game, you're not even losing the game and you're getting pulled, so you don't know if there's a motive behind it, and it's disappointing," Brodeur said. "I'm not Superman here. You get affected by certain things that happen. I just wanted to make sure I focused well and played well."
Zach Parise played like a captain should, scoring a goal and adding five hits, fourth-liners Steve Bernier and Stephen Gionta created havoc all night long, and the Devils finally won the special-teams battle, two power-play goals to none. But it was Brodeur who stole the show and reminded everyone why he's one of the best -- if not the best -- ever to play his position.
In the second period, Brodeur kept his record-breaking shutout bid alive by stoning Dmitry Kulikov on a breakaway, and with 10:31 left in regulation, he thwarted a 2-on-1 opportunity by Tomas Kopecky by flashing his glove. Brodeur secured the record when he denied Kulikov in close for a second time with a second remaining.
He was serenaded by chants of "Marty's better!" and "Marty! Marty!" by the capacity crowd all game long.
"It was fun," Brodeur said. "The last couple years, the fans haven't been too rosy in our building, and when we came back home and gave up a three-goal lead, that didn't help. I thought [Thursday night] the fans were awesome, and they really were into it all the way through the end. We need that."
Brodeur is going to be a free agent at season's end. He has said he'd like to continue playing, and if he's playing at this high a level, there's no doubt the Devils would love to have him back.
But for now, Brodeur isn't thinking about putting all his records, awards and accolades in perspective. He's thinking about winning this series and, hopefully, when it's all said and done, his fourth Stanley Cup championship.
"He's not motivated by personal stats," DeBoer said. "Those are things I'm sure he's going to enjoy when he's retired. This guy enjoys the battle and being in there in the heat of it with the game on the line.
"That's what he enjoys right now, and that's what he plays for."