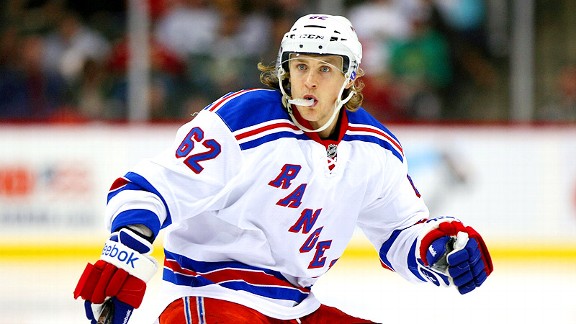 Brace Hemmelgarn/US Presswire
Rangers rookie left winger Carl Hagelin, who was suspended for the last three games, is "excited" to be back, and reiterated that he's "not a dirty player."
Hagelin was suspended by the NHL for injuring Senators captain Daniel Alfredsson with an elbow in Game 2 of their Eastern Conference quarterfinals series.
"Nope," Hagelin responded after participating in Sunday's optional skate when asked if he's going to have to alter his game light of what occurred. "What happened, happened. I'm going to keep playing my game. I'm just gonna go out there and work hard."
Alfredsson is "hopeful" that he can play in Game 6.
"I don't want to comment on anyone on their team ... but if he's good [to go], that's a good sign for him," Hagelin said.
The Rangers could certainly use the Swede's speed and puck chasing ability in their lineup.
The 23-year-old Hagelin had one assist in the first two games of the series. He had been playing on the team's top line with center Brad Richards and right winger Marian Gaborik, but coach John Tortorella has since broken Richards and Gaborik up.
It is unknown what the Rangers line combinations will look like in Game 6.