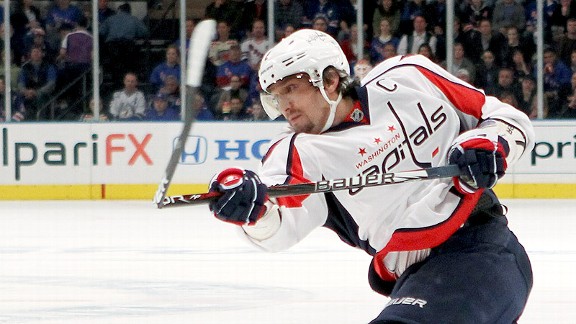 Bruce Bennett/Getty Images
Broken stick? It was that kind of day for Alex Ovechkin.Knocking off the Senators fans' laudatory chant for captain Daniel Alfredsson, the crowd at Madison Square Garden serenaded Caps star Alex Ovechkin with a more, um, unsavory variation, taunting the Not-So-Great No. 8 at the eight-minute mark of each period.
Rangers fans certainly did their part in harassing him from the stands, but the team's steady shutdown pair of defensemen, Ryan McDonagh and Dan Girardi, deserved much of the credit for stifling him on the ice.
The trustworthy tandem held the Russian dynamo off the scoresheet and limited him to one solitary shot on goal. Ovechkin finished Game 1 of the Eastern Conference semifinals with a minus-1 rating over 21:03 of ice time in the Capitals' 3-1 loss.
"They've been there all year. It's not a surprise," Rangers alternate captain Brad Richards said. "We almost expect them to be as good as they are every night. That's the great thing about having them."
Ovechkin, a the three-time 50-goal scorer, had five points (two goals, three assists) in four regular-season games against the Rangers this year, but was frustrated in his first postseason meeting of 2012. Solving Ovechkin wasn't an easy task the last time the teams' met, either. The 26-year-old had six points (three goals, three assists) in the five games it took the Caps to bounce the Rangers from the first round of the playoffs last season.
"He likes to get speed. If we can keep the gap up against him, it allows him to maybe dump it before he gains that blue line. That's the goal," said McDonagh, who registered three of the team's four shots on goal in the first period and recorded an assist on Artem Anisimov's second-period marker. "You're not going to completely take the puck out of his hands, but if you keep him to the outside, [goaltender Henrik Lundqvist] can make those saves nine times out of 10."
"We talked about how they changed their style a little bit; they're not as run-and-gun anymore," said McDonagh. "They focus on blocking shots and defending in their own zone. We knew it was going to be a tight-checking game and that plays right into our system."
The Rangers anticipated a tight, defensive game from their Caps counterparts heading into Round 2 and that's what they got. Neutralizing the team's stars like Ovechkin, Alex Semin, Nicklas Backstrom and offensive defenseman Mike Green will be a challenge for the team, but one they have proven capable of handling.
McDonagh and Girardi finished with three blocked shots combined and 25:04 and 24:38 in ice time, respectively.
"They were good," Rangers coach John Tortorella said. "They spent a lot of time on the ice. That's their job and they do it complete mostly every night."