NEW YORK -- Alexander Ovechkin put his glove to his ear.
The boos from the stunned sellout crowd at the Garden never sounded so good.
Ovechkin, who endured chants "Ovie sucks!" with eight minutes remaining in each period -- in "honor" of his No. 8 -- scored the game-winning power-play goal with 7:27 left in Game 2 of the Eastern Conference semifinals on Monday night, giving the Washington Capitals a crucial 3-2 victory over the New York Rangers.
It was his 28th career playoff marker in 46 games.
The best-of-seven series is tied at 1-1. Game 3 is Wednesday night at Verizon Center.
"It's the fans. I love it," said Ovechkin, who logged just 13 minutes, 36 seconds of ice time but made the most of it, ripping seven shots on goal during his 18 shifts.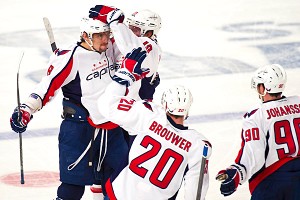 Cal Sport Media via AP Images
Alex Ovechkin was the center attention after scoring the decisive goal.
"The fans go [to MSG] to cheer the Rangers, and [Wednesday's] game is gonna probably be the same in Washington."
Just four seconds after Brad Richards was penalized for holding, Ovechkin unleashed a quick wrist shot from the top of the point following Nicklas Backstrom's faceoff win.
"First I saw it, then I didn't see it, then I saw it," said Rangers goaltender Henrik Lundqvist, who was screened on the play. "It was a hard shot. It was a good shot. Unfortunately, someone got tied up and he got a free lane. It's the wrong guy to give that opportunity."
Just like that, Ovie had finally made his mark.
"I was shocked when I turned and I didn't see anybody coming to me and I had a perfect lane for a shot," he said. "When I see that, I'm gonna put it in."
In the first two periods, Ovechkin played just 9 minutes, 14 seconds. Lundqvist had robbed him on the left post in the opening frame. And in the second, Ovechkin's shot trickled by the Hart and Vezina Trophy finalist -- just not over the goal line.
But Ovechkin stuck with it -- even after Lundqvist had stopped two of his shots from the left circle on Washington's previous man-advantage in the third -- and made the most of his opportunity when it counted the most.
"You have to suck it up and use the time that [coach Dale Hunter] gives me," Ovechkin said.
"Sometimes when you're not out there you feel like you're not in the game. But if you have a 10-second shift or a five-second shift, you have to go out there and do something. It's kind of hard but it is what it is."
During the regular season, Ovechkin ranked fifth in the Capitals in average ice time (19 minutes, 48 seconds). The 26-year-old has scored 50 or more goals four times in his career. Just two years ago, he was considered arguably the most complete player in the world.
Reduced ice time couldn't have been easy to stomach.
"He's a team guy and one thing about that is it leaves him fresh," said Hunter, who added that he wanted to roll all four of his lines.
So how does Ovechkin earn more time?
"Just score goals and play safely. When you play safely you help your team and earn trust," he replied.
Ovechkin scored all right. And it couldn't have come at a bigger time.
Nothing quite like quieting 18,200, is there?
"It's always emotional when you score goals," Ovechkin said. "I was just having fun."
Said Hunter: "He loves it. When the crowd's on you there's a reason for it, and that means you're playing well."