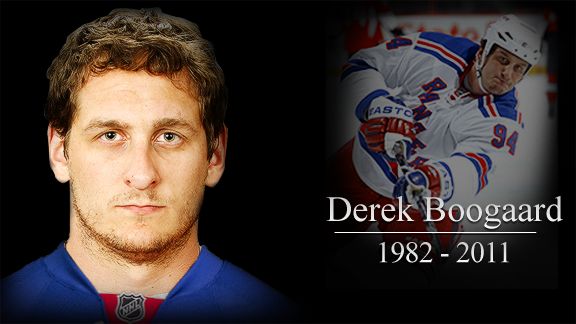 ESPN.com illustration
The hype and hysteria of the impending Eastern Conference final between the New York Rangers and the New Jersey Devils made the eve of Game 1 an exciting one -- but the day was also a somber reminder to Rangers tough guy Brandon Prust of a fallen former teammate who would not be along for the journey.
Sunday marked one year since the death of beloved enforcer Derek Boogaard. The 28-year-old lost his life after an accidental overdose of alcohol and painkillers at home in his Minneapolis apartment, a tragic passing that has left its imprint on his friend and former road roommate.
"It's tough to think back to the day," Prust told ESPNNewYork.com. "Obviously, it's very sad and not a day you like to remember, but on a day like today you remember all the good things and how we want to win one for him."
One of the game's most dominant and daunting fighters, Boogaard played only 22 games with the Rangers because of his concussion-shortened season in 2010-11. An autopsy later revealed he had signs of CTE, or chronic traumatic encephalopathy, a degenerative brain ailment related to Alzheimer's.
His death, one of three last summer among NHL tough guys, caused debate on fighting's place in the game. While some argued that the pugilism was inextricably tied to the league's epidemic of concussions, others countered the link as reactionary and over-simplified.
In the wake of Boogaard's death, Prust defended the difficult task of NHL enforcers and vocalized his support to keep fighting in the game. That hasn't changed.
"I have the same feelings I had at the beginning of the year. I think it's a way we can police our own game," he said. "It is a tough job, but it's something that I've chose to do. And, if I didn't want to do it anymore, I wouldn't do it."
Before the season started, Prust vowed to honor Boogaard's memory, not just with the No. 94 decal he and his Rangers teammates wore on the back of their helmets, but with his play every night.
Prust has lived up to his word.
He leads the league with 20 fighting majors and has carried on Boogaard's legacy as one of the team's most well-respected protectors. Prust was credited by many teammates for the Rangers' win in a pivotal Game 6 against the Senators that, they felt, turned after his first-period fight with Ottawa antagonist Chris Neil.
"He was one of the best in the league at that. He was one of the most feared guys to ever put on skates," Prust said of Boogaard, with reverence. "He brought that intensity to our team when you were out on the ice with him. It's a void that you kind of have to try and fill. He's missed that way."