Whether it was genuine or not -- and judging by his postgame comments it may not have been -- Martin Brodeur hyped up Henrik Lundqvist prior to their showdown in the 2012 Eastern Conference finals.
"He's a Vezina candidate. He's the one that's been -- I don't know -- he's unbelievable. He is lately. He's kind of the top goalie in the league right now," Brodeur said.
In Game 1 on Monday night, Lundqvist lived up to that billing.
The greatest goaltender of today got the best of the greatest goaltender of all time.
Lundqvist recorded his first-ever playoff shutout against Brodeur, stopping all 21 shots he faced in the Rangers' 3-0 victory over the Devils at the Garden. Lundqvist is now 28-11-5 in his career versus Brodeur -- 5-4 in the postseason.
After the game, Brodeur was asked what he thought of Lundqvist. Needless to say, he wasn't about to shower his counterpart with praise for his performance this time around.
"Well, from my view I saw him for about 10 minutes of the game because there were so many Ranger players in front of him," Brodeur said tongue-in-cheek, referring to New York's 26 blocked shots.
"But he played well."
For the first two periods, the Devils pressured the Rangers with their relentless forecheck, creating turnovers as well as a myriad of scoring chances. But Lundqvist thwarted every one of them -- from Ilya Kovalchuk's first-period breakaway to Zach Parise's three-shot short-handed flurry in the second.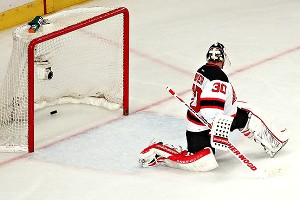 Anthony Gruppuso/US Presswire
In Game 1 of Rangers-Devils, the greatest goalie of today (Henrik Lundqvist) got the best of the greatest goalie of all time (Martin Brodeur).And it took only 53 seconds for the tables to turn in the decisive frame. Michael Del Zotto chipped the puck into the neutral zone and over Bryce Salvador's stick as Chris Kreider went to pursue it in New Jersey's end. The slick-skating rookie winger beat Marek Zidlicky to it, turned around and saw Dan Girardi skating over the blue line.
Kreider sent a soft pass to Girardi, who fired a one-timer. Brodeur, screened in front by Derek Stepan, never saw it.
The sing-song "Marty! Marty!" chant from the crowd began to pick up at a feverish pitch.
"We didn't finish Kreider when he was coming down the boards there," Brodeur said. "We need to close him out and get him off the puck. Nobody went to him somehow. It was a little miscommunication and he was able to lay the puck to Girardi for a bomb that I didn't see."
From there, the momentum swung the other way. The Rangers began to assert their will, tacking on two more goals while allowing just four shots. Not even Brodeur's diving save -- his finest of the postseason -- on Marc Staal could stop them.
"We need to find more ways to get more pucks at Lundqvist," said Brodeur, who allowed two goals on 27 shots. "Try to make his life a little harder than it was [Monday night] and that's it."
Devils coach Peter DeBoer felt both Brodeur and Lundqvist played well.
"Like I said, I think whoever was going to score first [Monday night] was going to win," DeBoer said. "And they threw a point shot at the net that found a way through. We threw a lot of those at the net, too."
Only problem was, they didn't score.
"When you start on the road, you need to win one game," Brodeur said. "It would be nice to get back home 1-1, but it will be tough."
Especially with Lundqvist between the pipes -- not to mention a group of gutsy shot-blockers playing in front of him.
"It's a great challenge for me to play against [Marty]," Lundqvist said. "I remember I got a few games against [Dominik] Hasek, and I put him up there with him. Just growing up, they were big guys. So it's always exciting, it is."
Martin Brodeur has accomplished everything humanly possible in the NHL. He's the all-time winningest netminder in history. He has captured four Vezina Trophies and three Stanley Cups.
But at the age of 40, it appears as though he still has something to prove. He wants to beat the Rangers. And maybe more than that, he wants to beat Lundqvist.
It didn't happen in Game 1 on Monday night.
The greatest goaltender of today got the best of the greatest goaltender of all time.
Lucky for Brodeur, there's still plenty of series left.