NEWARK, N.J. -- The six-game goal drought that followed captain Ryan Callahan into Game 3 must have weighed a little heavier in the second period.
With a Grade A opportunity at the left post, Callahan was robbed by a diving Martin Brodeur, who looked half his 40 years in stymying the struggling spark plug and preserving the scoreless tie 4:16 into play.
Callahan never beat Brodeur on Saturday, but he did halt his skid with an empty-net goal scored with 2:13 left in the third. Burying a rebound from Brian Boyle's initial attempt that glanced off the end-boards, Callahan gathered with teammates for a subdued celebration that seemed more relief than elation.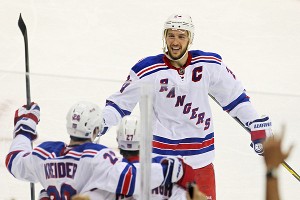 Jim McIsaac/Getty Images
Ryan Callahan's smile returned on Saturday.
Regardless of how it came, Callahan seemed relieved at to get himself back on the scoresheet.
"It's good to get that last one," he said, before taking a crack at himself. "Now I've got to just try to do it with the goalie in there."
Having witnessed Callahan's torment during a dry spell that has spanned almost the entire postseason -- only four goals and three assists in 16 games -- teammate Brad Richards anticipates a more carefree captain.
"It's amazing what goals can do, no matter how they're scored," said Richards, whose faceoff win set up the Rangers' first goal of the game. "He's the captain of our team. He takes everything very hard if we lose. He took the last game very hard and he wants to be part of it.
"You forget sometimes how valuable he is and what he does all over the rest of the ice. He wants to do everything," Richards continued. "We all were happy when we saw that. That will hopefully take a little pressure off him."
While Callahan never ceases to set the tone of the team's signature hard-nosed play -- blocking shots, crushing opponents with checks and killing penalties -- he couldn't escape the expectations of not chipping in offensively.
His torment was obvious to everyone around him.
"It's killing him. He's not helping us a whole bunch offensively. It's killing him. But he continues to do those other things," coach John Tortorella said.
Maybe, Tortorella surmised, the late-game marker will turn things around.
"You never know. You get an open-net goal like that, you never know what that does for you. I've seen it before. A guy takes off," he said. "That's what we're hoping will happen with him."