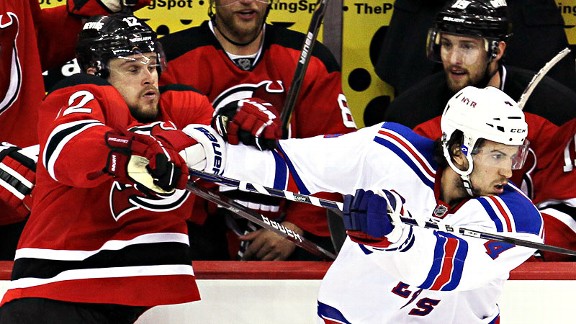 Jim McIsaac/Getty Images
Rangers coach John Tortorella wasn't too pleased with Michael Del Zotto on Monday.NEWARK, N.J. -- Michael Del Zotto has been one of the Rangers' most consistent defensemen this season.
But in Game 4 of the Eastern Conference finals, the 21-year-old quickly found himself in coach John Tortorella's doghouse.
At 11:59 of the first period, Del Zotto was beaten along the boards by Zach Parise, who set up Travis Zajac's one-timer, giving the Devils a 2-0 lead. New Jersey went on to win 4-1 on Monday night at the Prudential Center.
Del Zotto logged just 4:11 of ice-time and five shifts in the final two periods. He got a secondary assist on Ruslan Fedetenko's goal with 5:05 left in regulation.
"It was a struggle for him," Tortorella said. "He hasn't had many games like that this year. With the extra D we dressed, we wanted to take a little pressure off him and let him watch for a bit."
Tortorella expects Del Zotto to bounce back.
After the game, the team confirmed that he had a death in his family over the weekend.