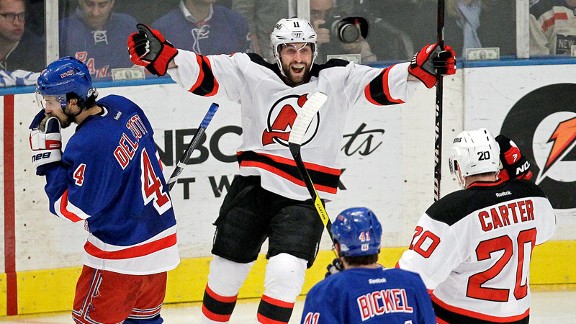 AP Photo/Julio Cortez
Stephen Gionta scored his third goal of the playoffs.NEW YORK -- Stephen Gionta spent most of the season in the AHL -- just as he has throughout his career.
Now, the 28-year-old is playing a prominent role on a New Jersey Devils squad that finds itself just one win away from the Stanley Cup finals.
Gionta scored in the first three minutes of Game 5 of the Eastern Conference finals on Wednesday night, and later set up Ryan Carter's winning marker with 4:24 left. The Devils vaulted past the Rangers 5-3 to take a 3-2 lead in their best-of-seven series.
"I can't really explain it in words," said Gionta, who didn't even know if he'd make the postseason roster after scoring in his only game of the regular season, the finale against Ottawa on April 7.
"It's just fun to be a part of right now and I'm trying to enjoy the moment."
Prior to becoming a playoff hero, Gionta was best-known for being Brian Gionta's younger brother. Like Brian, Stephen is small, standing just 5-7. But unlike his older brother, Stephen had never had any success in the NHL -- until now.
"I'm really happy for him," goaltender Martin Brodeur said. "It's hard to be a young brother sometimes. You always have the expectation of what your big brother does. ... It's time for him to shine."
"I didn't really have any expectations," said Gionta, an undrafted free agent in 2005-06 who has appeared in 363 AHL games and 13 NHL games (12 in 2010-11) with the Devils' organization. "I'd been told I may be sticking around before the playoffs [due to an injury to center Jacob Josefson]. They told me they'd try to get me into that last game against Ottawa, and luckily I did."
Ever since, Gionta has centered the team's unheralded fourth line between Carter and Steve Bernier -- a trio that combined for four points on Wednesday night.
"I thought they were the story," Devils coach Peter DeBoer said after Game 5. "They really have given us momentum throughout the playoffs. And that's playoff hockey. There's always unsung heroes and guys that step up this time of year, and we've got a bunch of them."
Galvanized after Gionta pounced on a rebound and stunned All-Star netminder Henrik Lundqvist, the Devils jumped out to a 3-0 lead, only to give it back to a desperate Rangers team which outplayed New Jersey for much of the match.
But with the game looking like to was ticketed for overtime, Ilya Kovalchuk came in hard on the forecheck and pinned Michael Del Zotto to the corner boards. Gionta followed, pouncing on the puck and sending a pass out in front to Carter, who beat Lundqvist blocker side, stunning the sellout crowd of 18,200 at Madison Square Garden.
"Kovy did a great job getting on the forecheck and taking the body," Gionta said. "The puck was just sitting there. I just closed my eyes and threw it out to Carts."
Seriously?
"No," Gionta laughed. "I just saw him coming up the middle and I was hoping he was still there when I put it out in front."
Surreal, isn't it?
"I haven't really thought about it yet," Gionta said. "You can't get too far ahead of yourself."
Gionta talks to his brother on a daily basis. Brian won a championship with New Jersey in 2003, and Stephen was able to see how much of a grind it was.
Now, younger brother is five wins away from his own shot at Lord Stanley's Cup.
"I'm getting bounces, I guess," Stephen said. "A lot of it is luck. The shots just keep going my way every time.
"If you make the most of your opportunity, anything can happen."