The closest thing to a guarantee from the Rangers heading into a do-or-die Game 6 against the Devils?
Coach John Tortorella's prediction about his star goaltender, Henrik Lundqvist.
"He'll play his best game tomorrow night," Tortorella said Thursday.
A later line of questioning prompted Tortorella to say he thinks alternate captain Brad Richards will have his best game as well, although there was no couching when it came to the team's resident Vezina and Hart trophy finalist.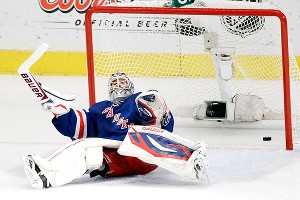 AP Photo/Julio Cortez
Henrik Lundqvist was down in Game 5, but his coach expects the goalie to be in top form Friday.
Coming off a pair of losses in which he gave up a combined seven goals, Lundqvist has a calm, confident air. He's trying not to think too much about the pressure.
"Not more than any other game. Try not to at least," Lundqvist said. "Obviously, when you go into a game like this, you want to win so bad you might put too much pressure than you need. When you're out there, you try to just focus on the things you always focus on when you play that game. The challenge, every time you play an important game, is to find a good balance, mentally."
With two shutouts in the first three games of the series, Lundqvist looked infallible (sometimes even inhuman) with his unflappable steadiness between the pipes. His ability to rob a dynamic Devils team left superstars such as Zach Parise and Ilya Kovalchuk flummoxed and frustrated.
Then, in Game 4, the Devils saw Lundqvist's steadfast resolve slacken, just a bit. Having pinned three goals on him to tie the series at two games apiece, New Jersey's frantic pleas were answered again in a staggering start to Game 5.
Lundqvist gave up three goals on the first five shots and finished the game with an uncharacteristic .750 save percentage, his lowest of the entire season.
Keeping an even keel has been the key to his success throughout a season that has the potential to be a career-defining one. With the Rangers on the brink for the fourth time this season, he won't deviate from that heading into the penultimate game of the Eastern Conference finals.
"I think we just know we have to approach this game the same way we've been approaching each game. We can't put more pressure on ourselves," he said. "We always want to win. We always want to play a desperate game, but you don't want to go out there and do too much. Or get too, you know, too excited."
Lundqvist and the Rangers are 3-0 when facing elimination this postseason. In those three games, he has given up only four goals combined.
"So far that's been the case, so hopefully we can continue that trend tomorrow," Lundqvist said when asked about the team's success when staring down a potential season-ending loss. "We've been answering really well so far in this playoffs. That brings some confidence to this group as well, that we can step up when we have to."