NEWARK, N.J. -- Ilya Kovalchuk has gotten to party with the Stanley Cup.
He just never won it.
Back in 2003, Kovalchuk's friend, Oleg Tverdovsky, won the Cup with New Jersey and took it back to Russia.
Kovalchuk could've touched it. He elected not to.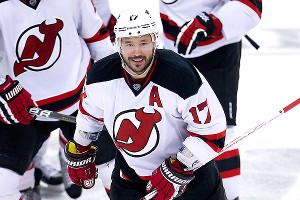 AP Photo/Chris Szagola/CSM
Ilya Kovalchuk
"It was nice, but it wasn't my party, so why would I touch it?" Kovalchuk said Monday, two days before he plays in his first Stanley Cup finals, against the Los Angeles Kings.
Kovalchuk has been waiting a decade for this chance. He became a star with the Thrashers, but never had any playoff success. In his only postseason appearance with Atlanta, the Thrashers were swept by the Rangers in 2006-07.
"That's the reason I left Atlanta, because I played big minutes and scored a lot of points, but I was done by April every time," said Kovalchuk, who as traded to New Jersey in February 2010 when he and the Thrashers couldn't agree to a contract extension.
By notching five points in the last three games of the Eastern Conference finals series against the Rangers, Kovalchuk has become the NHL's leading scorer this postseason (seven goals, 11 assists). So much for him not being clutch.
"I know that what everybody was waiting for is for me to produce and create chances for myself and my linemates, so that's important for me because it's part of my job," Kovalchuk said. "That's the reason why I'm here and I want to be in those situations."
Kovalchuk's first full season in New Jersey after signing a mega 15-year, $100 million contract was a disaster. But the 29-year-old rediscovered his superstardom in 2011-12, and fit seamlessly into coach Peter DeBoer's aggressive forechecking system after switching over to right wing.
"This guy has made a commitment to a lot of different areas, changing positions, playing a 200-foot game, playing in his own end, killing penalties and he's getting rewards for that now, like we told him he would," DeBoer said.
"That's nice because you see the sacrifices that he has made in the video room and the time he's spent and the time we've spent with him. You need rewards for that, and that's an important part of continuing that process."
In the summer of 2010, the Kings made a strong push to sign Kovalchuk, offering him upwards of a reported $84 million over 13 years. He even visited their practice facility.
"It was me and my family. We decided where we wanted to live, and my wife likes the New York area and New Jersey, so we decided to stay here," Kovalchuk said.
"The reason I went there was because my wife," he said of the Los Angeles visit. "She'd never been there, so she wanted to see what it is. It was nice, but she wasn't impressed. So that was our final decision."
Now, Kovalchuk has a chance to finally win that NHL championship that has eluded him.
"You want to be a winner. You want to be successful," Kovalchuk said. "It took me 10 years in this league to reach the final. Like I said, I'm gonna go out there, play my hardest and try to enjoy it."