NEWARK, N.J. -- Martin Brodeur has a different appreciation for reaching the Stanley Cup finals now then he did when he was a 23-year-old in 1995.
"It's the greatest moment of your life," the Devils' future Hall of Fame netminder said. "When you're young, sometimes you're innocent about these things. You're not 100 percent sure what to expect. You just roll with the punches.
"When you're in the prime of your career, you know what's at stake and it's harder to get it done sometimes, pressure-wise. But when you're older, you're just enjoying yourself."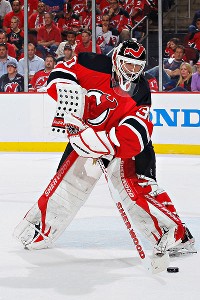 Andy Marlin/Getty Images
Martin Brodeur
Brodeur, now 40, has already played in four Stanley Cup finals and won three championships.
He'll begin the quest for his fourth on Wednesday night when the Devils take on the Kings in Game 1 at the Prudential Center.
"It's been a fun month-and-a-half or so," Brodeur said. "We're playing really well. For myself, I always approach my game the same way. I just want to give my team a chance to win. I'm probably not gonna steal too many games, but I try not to hurt my team and be there for them when they need me.
"I don't put any extra pressure on myself -- especially now. I think this is fun. I'm really enjoying the moment more than in the past."
Brodeur has been impressed by the way his counterpart, Jonathan Quick, has performed in the postseason. The 26-year-old has posted a 12-2 record with a 1.54 goals-against average, a .946 save percentage and two shutouts.
"He's definitely a guy that in the last few years has been playing well in the NHL. I don't know what his past was before, but he's a pretty spectacular goalie," Brodeur said.
Brodeur hasn't been so bad himself. In 18 playoff starts, he's 12-5 with a 2.04 GAA, .923 SV PCT and one shutout.
Devils coach Peter DeBoer called Brodeur's Stanley Cup experience "invaluable" for his team.
"Marty's best performances during the playoffs this year have been at the most key times," DeBoer said, referencing Game 7 of the first round against Florida (43 saves) and Game 6 of the conference finals against the Rangers (33 saves).
"His calmness and ability to deliver at those key times has been critical, and I expect the same in the finals."
Brodeur said playing in the finals is a difficult experience since your opponent is so unfamiliar. The last time the two teams squared off -- in New Jersey's third game of the regular season -- Brodeur injured his right shoulder and left early.
"It's brand new," Brodeur said. "I think every time you go to Stanley Cup final it's hard, because you don't know much about the team you're playing. ... We'll learn fast."
Ilya Kovalchuk said Brodeur is still the face of the franchise -- even in his 18th season in the NHL.
"Marty will always be the face of the team because the person he is and all the accomplishments and leadership he's got," Kovalchuk said.
Brodeur doesn't need a fourth title to validate his legacy -- although it couldn't hurt.