NEWARK, N.J. -- The Devils didn't spend much time complaining after a 2-1 overtime loss to the Kings -- coach Pete DeBoer said "we didn't deserve to win the game" -- but both teams seemed dissatisfied with the ice conditions for the Stanley Cup finals opener at Prudential Center.
"We both saw the same thing with the puck bouncing," Kings forward Dustin Penner said after the game. "It spent more time rolling than it did flat."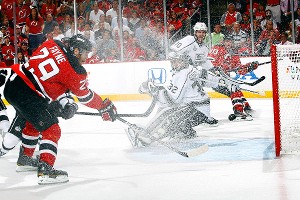 Andy Marlin/Getty Images
Mark Fayne sent ice flying when he missed a shot on an open net in the third.
"It was like playing with a tennis ball," Kings captain Dustin Brown said.
Devils defenseman Mark Fayne probably had the biggest reason to gripe; he was forced to grapple with his bungled chance on a wide-open net in the third, when he was unable to corral a bouncing puck and sent it wide.
"It just kind of hopped up at the last second," Fayne said. "I got a little bit of it, but not as much as I would've liked to."
Regardless of the ice conditions -- not entirely surprising given the day's high temperatures and humidity -- both teams were saddled with the same constraints.
"It's nothing that out of the ordinary at this time of year," Devils defenseman Andy Greene said. "It's bouncing, it's warm out, it's going to happen. Obviously, they're playing on the same ice, too. You just have to fight through it."