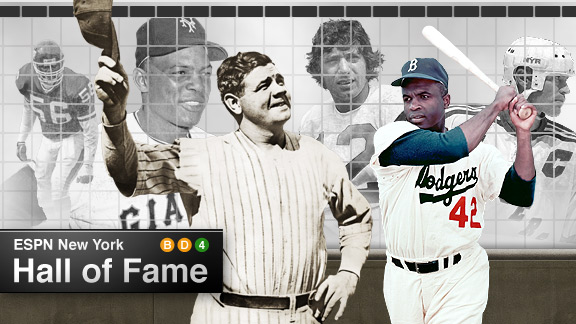 ESPN.com illustration
Vote: Pick the ESPN New York Hall of Fame class
In honor of ESPN New York's inaugural Hall of Fame ballot, here are my top five Rangers:
1. Mark Messier: Few in New York sports are as revered as Mark Messier, who spearheaded the push to the team's first Stanley Cup in 54 years. After guaranteeing victory in Game 6 of the conference finals, Messier followed through on his word, netting a hat trick in a comeback win over the Devils. He then scored the team's final goal in Game 7 of the Stanley Cup finals. He had two stints with the team, 1991-97 and 2000-04. His number was retired in 2006 and he was inducted to the Hockey Hall of Fame a year later.
Steve Babineau/Getty Images
Mark Messier is among the NY
Hall of Fame finalists: Top 20

• Hall of Fame video

2. Brian Leetch: The best defenseman in Rangers history was a major presence on the team in every game he played from 1988 to 2004. Leetch twice won the Norris Trophy as the NHL's top defenseman and won the Conn Smythe Trophy as the playoff MVP for the 1994 Stanley Cup champs. Messier has been quoted as saying Leetch is the greatest Ranger of all time. He was inducted into the Hockey Hall of Fame in 2009.
3. Rod Gilbert: For 19 seasons in the 1960s and '70s, the Rangers counted on Gilbert as one of their top offensive threats. He was the right wing on the team's well-known GAG line (goal-a-game) and set team records for goals (406) and points (1,021) that stand today. Gilbert, who played in eight All-Star Games, was the first player in Rangers history to have his number retired. He was inducted into the Hockey Hall of Fame in 1982.
4. Mike Richter: Richter won 301 games in a 14-year career spent entirely with the Rangers. His greatest accomplishment was as the team's No. 1 goalie in 1994, when New York won the Stanley Cup. A three-time NHL All-Star who was twice voted team MVP, Richter's number was retired in 2004.
5. Ed Giacomin: Giacomin won 266 regular-season games and 29 playoff games as the Rangers' top goalie from 1966-75, helping the team to a Stanley Cup finals appearance in 1972. Giacomin appeared in six All-Star Games as a Ranger, was inducted into the Hockey Hall of Fame in 1987 and had his number retired by the team in 1989.