PHILADELPHIA -- Bragging rights might have been the only thing on the line during Saturday's alumni game between the Rangers and Flyers, but some things never change.
"Mike is still Mike," Ron Duguay said of Rangers alumni coach Mike Keenan after his team's 3-1 loss. "He really wanted to win. That's what you have to love about him."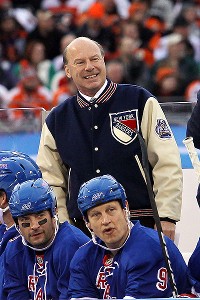 Jim McIsaac/Getty Images
It was an alumni game, so Mike Keenan allowed himself to smile.
Keenan's fiery demanor and demanding coaching style -- which earned him the nickname "Iron Mike" -- was on full display in front of the sold-out crowd of 45,808 at Citizens Bank Park on Saturday.
Does he ever think about getting back into coaching?
"I don't know if I ever thought about getting out," said Keenan, who led the Rangers to the Stanley Cup in 1994. "The industry either calls you back or it doesn't. The game either calls you back or it doesn't. Right now, it doesn't look like it's going to call myself or [Flyers alumni coach] Pat Quinn back."
Keenan coached eight different teams -- including the Rangers and Flyers -- over his 24 years in the NHL, most recently Calgary in 2008–09. He still believes he can contribute at the professional level.
"I think I could help a team with my experience," Keenan said. "I was surprised some teams hired coaches that had absolutely no experience. That's making it very difficult on that coach, I believe. I think you need experienced guys."
Keenan, 62, said he also feels like he still has the requisite energy level to handle the rigors of leading an NHL team. But whether the NHL will buck the latest trends of hiring younger coaches over more seasoned candidates remains to be seen.
"I'm probably young enough yet, because it demands a lot of time and energy, but it goes in cycles," Keenan said. "If you look at baseball for example, they go to older managers or experienced managers. In hockey right now, the cycle is younger coaches."
"That has always been part of the industry, part of the business where there is a cycle of coaches where young people come in, and then they go to veteran people."
As for right now, Keenan said the only interest he has received was to coach the Rangers' alumni team.
As for future gigs down the road?
"It may happen, it may not," Keenan said. "I don't know."