NEWARK, N.J. -- Devils coach Peter DeBoer will always have a bond with Kings center Mike Richards.
DeBoer used to coach Richards in juniors, and the two won a Memorial Cup together in 2003 with the Kitchener Rangers of the Ontario Hockey League.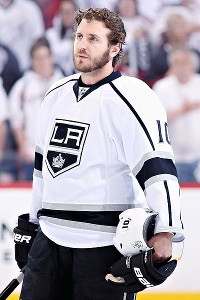 Christian Petersen/Getty Images
Mike Richards
DeBoer and Richards have exchanged texts throughout the postseason -- just not lately.
And certainly not during the Stanley Cup finals, which begin Wednesday at the Prudential Center.
"He grew up as a player and a young man in the organization I was running in Kitchener," DeBoer said of Richards. "Winning follows him around. We won a Memorial Cup together and a World Junior championship together. So obviously he's a special kid and I'm very happy to see what he's done. I'm not surprised.
"But I also know Mike Richards would run you over with his car to win the Stanley Cup. He'd visit you in the hospital after, but ..."
Richards also has the utmost respect for DeBoer -- even if he wants to beat him.
"He's such a smart hockey coach, not only X's and O's, but knows how to get the most out of his players," Richards told the Los Angeles Times. "In games, he's very smart at matchups and stuff like that. I'm not really surprised by (his success)."