Ilya Kovalchuk hasn't forgotten how badly he and his Devils teammates were bludgeoned by the Bruins the last time the two teams faced one another.
"We remember that game. It was embarrassing," Kovalchuk told MSG Network after pumping in a pair of goals on Tuesday night in New Jersey's 5-1 whooping of lowly Winnipeg.
On Jan. 4, Boston blew the Devils out of their own building, 6-1, in what was without question their worst performance of the season. The Bruins dominated them in every facet of the game.
The Devils will have a chance to get their revenge when they meet the Bruins on Thursday night at the Prudential Center.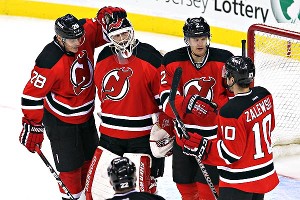 Ed Mulholland/US Presswire
Martin Brodeur and the Devils face a big challenge when the champion Bruins come to town Thursday.
"We weren't happy with our effort [last time]," Patrik Elias told MSG Network. "We just have to give a better effort. It's a great challenge, so we have to rise to the occasion."
The defending Stanley Cup champion Bruins are as complete a hockey team as you'll find. Boston has scored the most goals, and allowed the fewest.
"We have to be ready, we have to be ready to win a lot of 50-50 pucks on the wall," captain Zach Parise told MSG. "That's where that team is really good. We have to be mentally ready."
"They have four very good lines. We have to come out with a good effort, be patient and play our game," Petr Sykora added.
The Devils are hot, having won three in a row. They went 3-1 on their four-game road-trip, and then took care of the Jets with ease.
Their stars are playing like stars:
• Kovalchuk has seven goals in his last six games;
• Elias has a six-game points streak (four goals, six assists);
• Martin Brodeur is 9-3-1 since Dec. 6.
Brodeur, who is 39 and in the final year of his contract, confirmed what he told the New York Post to MSG Network after Tuesday's game when he said, "I'm leaning toward maybe playing a little more. I'm having fun."
The Devils (26-17-2) have had their fair share of victories this season. That's why they're in sixth place in the Eastern Conference.
But they've struggled against the top teams in the East, going 1-4 combined against the Rangers, Bruins and Flyers.
Sykora said he thinks the Devils can beat the Bruins.
Now, it's time to prove it and make a statement that this Devils team is a force to be reckoned with.