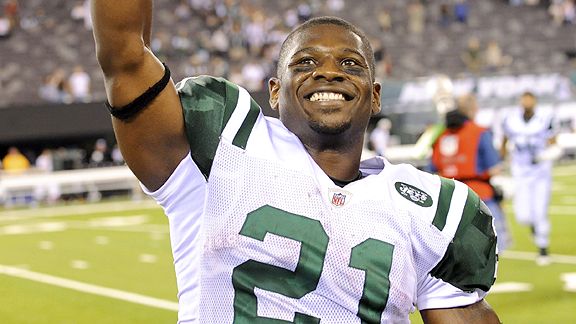 AP Photo/Bill Kostroun
Tomlinson has rushed for 13,628 career yards, the sixth-best total in NFL history.Last week, LaDainian Tomlinson said he was aware the Jets-Giants game could have been his last home game in MetLife Stadium.
This week -- as the Jets fight for their playoff lives -- he is aware that Sunday's matchup in Miami could be his last professional football game.
"Yes, there is definitely a thought that this could be, because you never know how things shake out," said Tomlinson, who will be a free agent after this season. "For me, it just depends on the situation. I've said that before. I would love to keep playing, but if the situation is not right, then I won't. This possibly could be my last game."
He has said he would play for the Jets again, or another team that was the right fit. But Tomlinson won't play for league minimum next season.
"I got kids, man," he said.
This year the running back earned $1.125 million with the Jets. The league minimum is $900,000 and will go up next year.
Tomlinson, who played the bulk of his career for the San Diego Chargers, is in his 11th NFL season. He has never reached the Super Bowl despite what will inevitably be a Hall of Fame career. That could play a part in his decision to play next year. But if he doesn't find the right fit, he would not hesitate to call it a day.
"Yes, it is weird, but this is how I see it," Tomlinson said. "If it is my last game, I've enjoyed 11 years of playing football, playing a kid's game [with] two great organizations. Obviously, being here the last couple of years, I've really enjoyed my time here. The fans have been great. My teammates have been great. The coaching staff. There is nothing I could complain about."