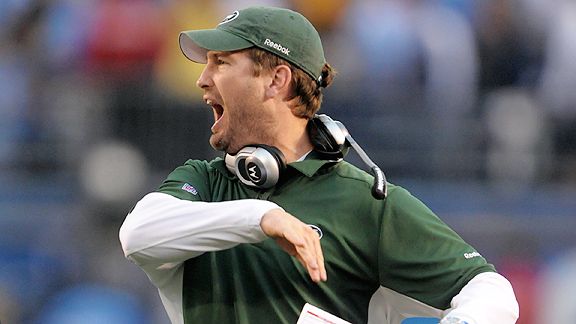 Kirby Lee/Image of Sport/US Presswire
After six seasons, Brian Schottenheimer is out as the Jets' offensive coordinator.A quick take on the late-night news: Brian Schottenheimer is out as the New York Jets' offensive coordinator. Tony Sparano is in, according to ESPN's Chris Mortensen.
1. If you removed Sparano's name and inserted Ray Handley, you get the feeling that Jets fans still would be happy. They just wanted Schottenheimer gone.
2. Make no mistake, Schottenheimer didn't jump. He was pushed. Despite Rex Ryan's attempts to convince everyone he wanted Schottenheimer back, it was NEVER GOING TO HAPPEN. Just as I reported a few days before their last game.
3. Sparano is a well-respected coach in the business, but he has never been a coordinator and he called plays in only one season, 2006. That was when he was with the Dallas Cowboys (2003-07), working under Bill Parcells. He didn't call plays during his three-plus seasons as the Miami Dolphins' head coach.
4. Sprarano is an offensive-line/running-game coach, not a quarterback tutor -- and that's what the Jets need to fix Mark Sanchez. Presumably, they're going to hire a proven quarterback/passing-game coach to work with Sanchez -- or else this Sparano hire makes no sense.
5. Priority No. 1 is Sanchez. That's why Schottenheimer is out. His job was to groom Sanchez, who took a step backward in 2011. If Sanchez flatlines in 2012, they all could be out of jobs.
6. The Sparano hiring is a clear indication that Ryan wants to get back to being a run-oriented offense. They lost that identity last season, although Ryan deserves a lot of that blame.
7. Get ready for more Wildcat. Remember, it was Sparano's staff in Miami that introduced the Wildcat in 2009. Ryan likes the Wildcat and wasn't shy about telling everyone after the Week 13 win over the Redskins that it was his idea -- not Schottenheimer's -- to go heavy with the Wildcat.
8. Give Ryan some credit. He could've made the easy hire and promoted OL coach Bill Callahan, but he decided to go outside the organization for a fresh approach. Once Callahan found out he wasn't getting the job, he bolted to the Cowboys.
9. Schottenheimer did some good things in six seasons with the Jets, but it was time for a change -- for both parties. Let's be honest: He lost the offense over the final three games. Instead of getting better in the homestretch, it got worse, and he couldn't blame it on injuries. It was a dysfunctional unit that never jelled or found an identity.
10. Don't discount the Santonio Holmes factor. Holmes isn't a Schottenheimer fan, and it sure looks like he's going to be sticking around because the Jets don't want to eat $7.75 million in guarantees. This move will make Holmes happy.
11. Owner Woody Johnson is so predictable. Whenever the Jets don't make the playoffs, there's always a sacrifice or a blockbuster move to appease the fan base.
12. Don't think for a second the Jets won't enjoy knocking the Giants off the back pages for a day.
13. Why did the Jets wait until 11:15 p.m. ET to make the Schottenheimer announcement? Because they wanted to wait until the outcome of the Jacksonville Jaguars' head-coaching search. Once they discovered it wasn't going to be Schottenheimer, they proceeded. They didn't want to sabotage his chances, partly because they wanted to get his $3.2 million off their books.
14. Is Northern New Jersey big enough for two Tony Sparanos (even if their last names are spelled a little differently)?