LaDainian Tomlinson shed some new light on the Jets' locker-room issues, suggesting Sunday that the "receivers" -- Santonio Holmes and Plaxico Burress -- could be responsible for the anonymous bashing of quarterback Mark Sanchez.
Tomlinson, appearing on ESPN's Sunday NFL Countdown as a guest analyst, didn't mention Holmes or Burress by name. But he didn't have to.
"I think some things that happened in the locker room between [Sanchez] and the receivers, I think that's where this is coming from -- some of the disconnects that happened throughout the year, maybe some of the arguments you guys heard about throughout the year," Tomlinson said. "So I think this is where it may be coming from."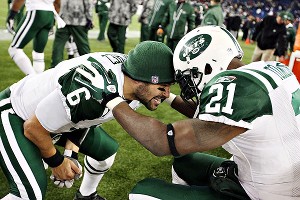 Al Bello/Getty Images
"He's not lazy," LaDainian Tomlinson (21) says of maligned QB Mark Sanchez (6).
Like several of his teammates who defended Sanchez publicly in recent days, Tomlinson claimed Sanchez isn't lazy, as one unnamed player said in a New York Daily News article.
"Listen, there are a lot of things you can say about Mark Sanchez, but to call him lazy is a bit much," Tomlinson said. "This is a guy that has worked very hard off the field ... in the film room, I've seen it ... the weight room, putting in extra time with the coaches early in the morning ... after practice, when everybody is gone, putting in time. So he's not lazy."
But Tomlinson didn't disagree with the notion that Sanchez needs a viable backup to keep him sharp.
"Mark hasn't had that competition to push him," said Tomlinson, adding that all athletes are better when there's pressure to perform. "I do think he'll be a better player if he has some competition, somebody to push him."
Tomlinson suggested that the locker-room turmoil existed throughout the season, but didn't become public until players got frustrated late in the year because of the losing.
"There were times in the locker room that things were happening, but players -- for the most part in the season -- kept it under wraps," he said. "It didn't really get out to the media until the end part of the season. I think it happened because of the losses we had toward the end. Once that happened, you got guys to come out to the media, saying things, [how] they're not happy about certain situations.
"That's the issue. You have guys, anonymously, saying things that are bringing this team down and you can't have that."
Actually, things started to spiral out of control when Holmes was benched late in the final game because he was jawing with teammates, some of whom accused him of quitting. In the ensuing days, the Holmes-Sanchez rift was exposed, along with a strong anti-Holmes sentiment in the locker room. The turmoil escalated when the Daily News quoted an unspecificed number of players -- all unnamed -- who bashed Sanchez.
Tomlinson, a free agent, said he's still contemplating retirement, but keeping his options open.