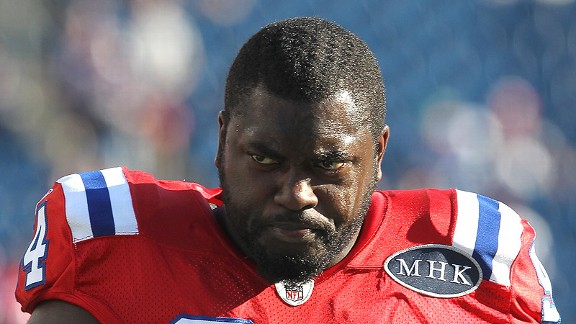 Jim Rogash/Getty Images
Shaun Ellis is one win away from the Super Bowl ... again.To paraphrase Rex Ryan, Shaun Ellis and James Ihedigbo are Same Old ex-Jets -- back in the AFC Championship Game.
Except this time, they're playing for the enemy Patriots, who face the Ravens on Sunday in the title game. For Ellis, 34, who could retire after the season, this might be his last shot for that elusive Super Bowl appearance.
Ellis wants it "badly, badly," he said after Saturday night's win over the Broncos, according to The Star-Ledger of Newark. "I'm 12 years in. I've worked hard all my years. Been able to get another opportunity, and hopefully close that window and be able to get there. And win it."
Obviously, Ellis is happy with his decision to leave the Jets as a free agent. He got more money (about $3 million more than the Jets offered) and he avoided the Florham Park Zoo.
"It worked out," said Ellis, who had a sack of Tim Tebow. "I came in, really didn't know what to expect. I came in, great teammates, they accepted me. It was like, 'Man, just keep your head up, your time will come.' They do things a little different around here, so I just stayed a pro and just waited on my opportunities, and just have been able to take advantage of them.
"I wanted to get back here [the AFC title game], and that's why I came here."
Ellis has been a role player (only 358 defensive snaps in the regular season, according to the website Pro Football Focus), but Ihedigbo -- primarily a special teams player with the Jets -- started 12 games at safety. The Jets never saw him as an every-down defensive player, and now he has a chance to be one for a Super Bowl team.
"I'm playing in an AFC Championship [Game], and they're home watching," Ihedigbo said.