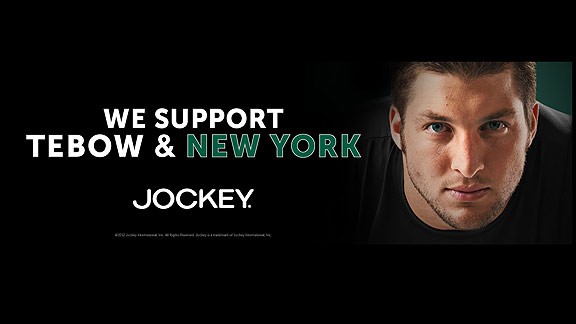 Clear Channel Outdoor
"Tebowmania" has gone digital in the New York City area.
A digital billboard featuring soon-to-be New York Jets quarterback Tim Tebow was unveiled on the New Jersey side of the Lincoln Tunnel on Friday at noon.
The Jockey billboard will feature Tebow's face and the slogan "We Support Tebow & New York."
It will be up for one week and is expected to be seen by well over 500,000 people, according to Clear Channel Outdoor.
Tebow was acquired by the Jets from the Denver Broncos via trade, but it's not official yet.
Because of a procedural issue, Tebow will be required to sign a rewritten contract with the Broncos on Friday and remain on Denver's salary cap for 24 hours thereafter, a source told ESPN's Ed Werner.
That means the trade will not be official until 4 p.m. ET on Saturday.
Tebow has already flown to New York, but won't be introduced to the media until Monday.
Information from Rich Cimini and Ed Werner was used in this blog entry.