In a mild surprise, the Jets re-signed longtime OLB Bryan Thomas, hammering out a one-year contract about an hour after the free-agency bell sounded Tuesday.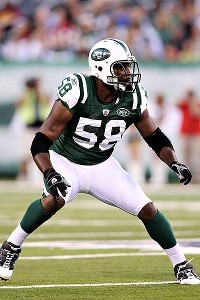 Al Bello/Getty Images
Bryan Thomas
Thomas, 32, is a true Jet, a blue-collar guy, the kind of guy you want in your locker room, but this doesn't mean the outside-linebacker position is solidified. You can't count on an aging and declining player, coming off major Achilles' tendon surgery (is there another kind?), to be the rock he was before the injury.
This is an area that still needs to be addressed, and the Jets will look to do so in the draft. Melvin Ingram, anyone? How 'bout Courtney Upshaw? They absolutely need a pass-rushing linebacker. But at least the Thomas move provides some insurance at the position. When healthy, he was a solid run defender, capable of setting the edge.
The Jets missed that last season. They had to use a committee approach, using Jamaal Westerman, Garrett McIntyre and Aaron Maybin on third down. It was a mess. It still isn't perfect, but at least they have a familiar face as a fallback option. Thomas knows Rex Ryan's defense, and the multiple responsibilities of playing that position, and he can help groom his heir apparent.
Bill Parcells used to have a name for players like Thomas -- a hold-the-fort guy.