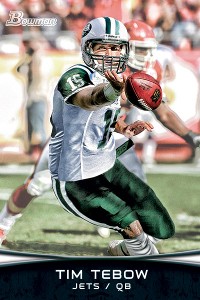 Courtesy of Topps
Tim TebowHere is your first look at Tim Tebow in green and white.
Topps has unveiled a picture of what will be the first trading card featuring the 24-year-old quarterback in his new Jets uniform.
The card will be in short print, meaning it will be rare, and will come out in Bowman Football, a branch of Topps, in May.
There will also be a Peyton Manning card, featuring him in his new Denver Broncos jersey.
You can read more about the cards here.