This is what the New York Jets want you to believe about their trade for Tim Tebow:
It's not a publicity stunt, it's about football.
It's not about making money, it's about producing wins.
"Let me be really clear about this," owner Woody Johnson told reporters Sunday at the NFL meetings in Palm Beach, Fla., going on to explain that the trade was based entirely on upgrading the roster.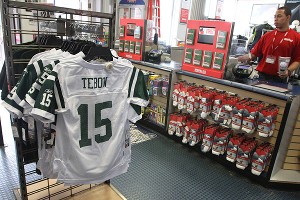 AP Photo/Mary Altaffer
The No. 15 jerseys are already on the rack.
As Johnson made those remarks, his team -- 1,200 miles away in Florham Park, N.J. -- was busy preparing for what probably will be the most heavily attended and most-watched news conference in franchise history.
To introduce the new backup quarterback.
So, no, it's not just a football move. If that's what you believe, you probably believe Jennifer Lopez is an "American Idol" judge because of her insightful analysis.
Of course Johnson wants to win, probably more than most realize, but he's also a businessman, just like the 31 other gazillionaires who own teams in the NFL. And there's no doubt that having Tebow on the roster is good for business. He's a moneymaker.
Not that there's anything wrong with that, as Jerry Seinfeld might say.
Johnson won't say that publicly because he wants to keep the customers happy, wants them to think it's about them and not about his bottom line. But let's not be naive. The idea is to grow your product. Winning is the best way, but there are ancillary means that help, too.
Two years ago, the Jets were featured on HBO's "Hard Knocks," which increased their profile and made them a national team. People still talk about "Hard Knocks," including Tebow, who mentioned it last week during a conference call with reporters.
Now, instead of reality TV, the Jets get a cult figure. Tebow already has a commercial billboard at the Lincoln Tunnel and a sandwich in his name at the Carnegie Deli -- a "Jetbow," which is stacked higher than an end-zone pylon.
Sometimes the line between football and marketing gets blurred. Eric Mangini knows the deal. He was the Jets' coach when they imported Brett Favre -- perhaps not coincidentally, a few months after the New York Giants won a Super Bowl. (Hmm, does the Tebow timing seem familiar?)
"There are some positives organizationally from a business perspective with this decision," Mangini said. "As a head coach, it's not your primary focus, but you get it. You understand how all those things come together -- seats, loges, sponsorships. This is a way to make a splash in free agency without paying too high a price."
Think about it: The Jets get $100 million worth of buzz without having to pay a $100 million contract. Tebow will cost them $6 million over the next three years.
They get a backup quarterback, but he gets to play because of the Wildcat formation. What other backup gets guaranteed playing time?
The Jets see it as an ideal situation and, oh by the way, they really think Tebow can spark the running game with his ability to run the Wildcat. Coach Rex Ryan, also speaking at the league meetings, hinted he may use Tebow in other roles as well, not offering specifics.
It would be unfair to criticize the Jets for making this move simply to sell No. 15 jerseys and corporate sponsorships, but don't think for a second it wasn't a factor. You know they're excited about the off-the-field possibilities.
At noon Monday, when Tebow steps to a podium inside the Jets' massive field house for his first news conference, the Jets will be the epicenter of the football world -- maybe the sports world.
Sensitive to the perception of overhyping a backup player, they will try to keep it in perspective. No elaborate introductions. No cheesy photo ops. No flowers for the family. Just a Q&A.
Good luck with that. As soon the doors open, it becomes huge.
The Jets have provided many priceless news conferences over the years -- from former owner Leon Hess' rare appearance in 1995 to Bill Belichick's stunning resignation in 2000 to Ryan's White House prediction in 2009 -- but this is the most anticipated one of them all.
There's a rock star in the house. Maybe Johnson will watch on TV from Florida.
"Our mission is to win games, pure and simple," he was saying Sunday.
No one doubts the mission, but there's nothing pure and simple about it.