The stars came out to Yankees Stadium.
Jets backup quarterback Tim Tebow, Knicks rookie guard Iman Shumpert and Heat guard Dwyane Wade watched the Yankees battle the Angels.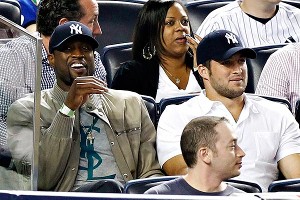 William Perlman/US Presswire
Dwyane Wade and Tim Tebow: That's a lot of star power in the crowd.
Shumpert was the first player shown on the big screen in center, receiving a nice round of applause. Wade was shown shortly after and was booed by fans at first, but he quickly showed a Yankees hat and received applause. Wade's Heat beat Shumpert's Knicks, 93-85, at Madison Square Garden earlier in the day.
When Tebow was shown on the big board, fans reacted with a loud mixture of boos and cheers -- more cheers than boos, but the boos were definitely audible. Tebow gave a sheepish wave.
Wade, by the way, switched seats, placing him next to Tebow instead of one row behind.
The Yankees did not meet with Tebow and did not realize that the mixed reaction from the crowd was for the quarterback.
"I didn't get a chance to see him. I would have loved to have the chance to talk to him," manager Joe Girardi said. "I'm sure he'll be back at some point."
He added: "He's one big quarterback. I see him in the stands, he doesn't look like a quarterback."
Nick Swisher has met Tebow before and after being asked several questions about the quarterback, joked that he thought he'd be talking more about baseball than Tebow.
"There are a lot of fancy people that comes to these games, man," Swisher said when asked about noticing the reaction for Tebow. "Welcome to New York, Tim."