NEW YORK -- One thing Stephen Hill knows how to do? Give the crowd what they want.
The Jets' second-round pick hit the stage at Radio City Music Hall after his name was called, shook hands with NFL commissioner Roger Goodell and posed for photos with a new Jets cap. Then, he produced a megawatt smile and addressed the fans in the balcony.
"J-E-T-S! Jets! Jets! Jets!" Hill yelled.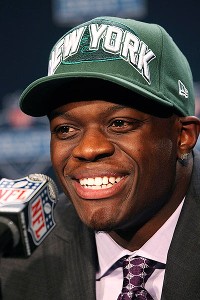 AP Photo/John Minchillo
Stephen Hill
And with that, the Georgia Tech wide receiver had a new fan base.
"It was just really a happy moment," Hill said.
He said that the Jets let him know they were "really, really, really" interested in him. And right after his name was called he got a call from his new quarterback Mark Sanchez to welcome him to the team.
"I felt home," Hill said of his visit to New York three weeks ago.
He even deftly deflected a question about whether he'd prefer to play with Sanchez or backup Tim Tebow, saying, "It's going to be great playing with both of them."
Hill also said he has looked up to Jets receiver Santonio Holmes "since I've been a kid" and was looking forward to learning from him.
Hill said he got to know Jets coach Rex Ryan by watching him on "Hard Knocks" -- which may have been the greatest recruiting vehicle for the franchise in recent history -- and Hill already said he was looking for the Super Bowl.
"Coach Rex Ryan hasn't even said anything about the Super Bowl to me, but I know his philosophy," Hill said.
The fickle Jets fans at the 2012 NFL draft cheered the pick, and Dave Sattinger of Port Washington, N.Y., said that, with Plaxico Burress out the door, the Jets needed someone like the 6-foot-4, 215-pound Hill.
"They needed someone with size who could draw the double team and stretch the field," Sattinger said.
His friend Chris Carluccio of Edgewater, N.J., would have preferred to see the Jets take an offensive lineman, but was happy enough with Hill.
ESPN draft expert Mel Kiper had Hill listed at the No. 4 wide receiver in the draft, and projected him to go late in the first round or early in the second. The Jets traded up to the 43rd pick, giving Seattle their second-, fifth- and seventh-round picks.