Chad Pennington was unceremoniously released by the New York Jets four years ago, but he's still making an impact on his former team's quarterback position.
Pennington, who met with Mark Sanchez in South Florida for a few chalk-talk sessions in February, played a role in the Jets' signing of undrafted free-agent QB G.J. Kinne of Tulsa.
Perhaps you're familiar with Kinne's story. A year ago, he and his father were featured on ESPN's "E:60". On April 7, 2005, Gary Joseph Kinne, a high school football coach in Texas, was shot and nearly killed by a disgruntled parent. In the immediate aftermath, G.J. was told by a police officer his father had died. The horrific story made national news.
Gary Kinne recovered and got back to coaching football and his son, who prepared for the NFL by training at the TEST Football Academy in Boca Raton, Fla. His instructor was Pennington, and they developed a friendship. G.J. Kinne said the main reason he trained at TEST was because of Pennington, whose game he admired.
The Jets called Kinne during the sixth round on Saturday and explained that, if they didn't pick him, they wanted to sign him as a free agent. He also weighed a free-agent offer from the Kansas City Chiefs. Enter, Pennington.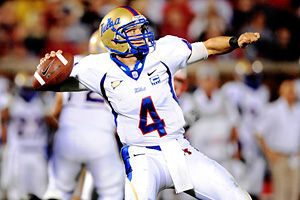 Mark J. Rebilas/US PRESSWIRE
G.J. Kinne threw 81 touchdown passes and just 32 interceptions during his Tulsa career.
"We really hit it off," Kinne said Monday in a phone interview. "We talked through the whole draft. He told me, 'If the Jets really want you, I'd jump on it.'"
And so he did. On Thursday, Kinne will report to the Jets' rookie minicamp.
This makes two former Jets quarterbacks that have helped in the training of two draft picks. On Saturday, second-round wideout Stephen Hill revealed that he caught passes from Vinny Testaverde, Pennington's predecessor, during workouts at the IMG Madden Football Academy in Bradenton, Fla.
In Kinne's case, he learned a lot from Pennington.
"He was one of the quarterbacks I always looked up to," Kinne said. "When we were together, he got me on the whiteboard and drilled me. On the field, he really helped me with my mechanics."
Kinne also spent two weeks at the TEST facility in Martinsville, N.J., where he was tutored by former New York Giants QB Scott Brunner.
This worked out rather conveniently for the Jets, whose new offensive coordinator is Tony Sparano -- Pennington's coach with the Miami Dolphins from 2008 to 2010. Pennington is an expert on Sparano and his system. There's little doubt that Sparano picked Pennington's brain for intel on Kinne, who admitted his relationship with Pennington played a role in his decision.
There's another interesting wrinkle in Kinne's background: Before his senior year at Tulsa, he played in a spread-option offense. He described it as "similar to what Florida did with [Tim] Tebow" -- yet another example of the Jets acquiring players with experience in option-style attacks. Hmm.
Kinne was the Conference USA Offensive Player of the Year in 2010. In 2011, he played in more of a pro-style offense. He played for five offensive coordinators in five years, including one year at Texas.
The Kinne name is well known in the football-mad state of Texas, where his father -- a former Baylor linebacker -- is a successful high school coach. In 2005, a deranged parent walked into Kinne's office one morning and shot him once in the chest. The internal damage was so severe that a police officer told G.J., "Your father is dead."
On Saturday, father and son were together when G.J. agreed to his deal with the Jets.
"It's just amazing," the elder Kinne said in a phone interview. "I didn't know if I'd ever get the chance to watch him go through this process. They say tragedy can do one of two things: It can drive you apart or make you closer. It made us even closer."
So close that, during the summer of 2010, they watched every episode of HBO's "Hard Knocks" together, marveling at Jets coach Rex Ryan. This summer, G.J. Kinne will be able to experience Ryan live, which is better than in HD.