Notes and observations on the Jets and the NFL:
1. COVERING SAN-BOW: I've covered a lot of backup QBs, from Pat Ryan to Bubby Brister to Mark Brunell, but I've never seen one draw as much media attention in the locker room as Tim Tebow did during Thursday's media period. It was almost surreal. The Jets are used to the spotlight, but one player shook his head and told me, "It's going to be an interesting year."
Mark Sanchez, in a radio interview the next day, acknowledged the crowd around his locker was smaller than usual -- and he thinks that might be a good thing if it continues that way.
"He can take pressure off you, as weird as that may be," Sanchez said of Tebow.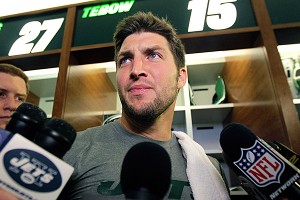 AP Photo/Julio Cortez
Tim Tebow drew a crowd in the Jets' locker room.
Huh? Sanchez speaks to the media only 30 minutes per week -- tops -- always drawing the most reporters. If he thinks that's pressure, you wonder how he'll respond when the pressure gauge starts climbing, when he and Tebow start playing for real.
2. BABY STEPS: Tebow told reporters Thursday that he's been practicing exclusively at quarterback -- no Wildcat -- prompting conspiracy theorists to conclude that it's the Jets' secret intention to use him only at QB (to take Sanchez's job), and that the Wildcat plan is nothing but a ruse.
That is ridiculous. Hello? The Jets are learning a new offense. They have to learn the basics of the offense before they can start running gadget plays -- and that goes double for Tebow.
3. DRAFT HINDSIGHT: Turns out the Seahawks' surprising choice of DE/OLB Bruce Irvin with the 15th pick did force the Jets (16) to change their plans -- according to the NFL Network, that is. A report said they had a deal worked out with the Steelers (24), who wanted to trade up for G David DeCastro, but the Jets decided not to do it when Irvin was picked. They would've traded down if Irvin and DE Quinton Coples had been on the board, increasing the likelihood they'd get one of them at 24.
In retrospect, based on the players chosen from 17 to 23, the Jets probably would've had Irvin or Coples -- plus third- and fourth-round picks from the Steelers (an educated guess on the trade compensation). If Irvin and Coples were gone, the Jets could've had WR Stephen Hill, whom they said was rated just below Coples. They got Hill in the second, but it cost them two picks to move up.
GM Mike Tannenbaum, speaking to reporters Saturday during an event at MetLife Stadium, declined to comment on the reported Steelers trade that fell through, according to The Star-Ledger of Newark. It's easy to read between the lines.
4. STURDY LIKE A BRICK: Of the top four picks in the 2006 draft, only one remains with his original team -- LT D'Brickashaw Ferguson (No. 4). The Jets could've gone a few different ways in that draft, but it's a credit to Tannenbaum that he got a foundation player. Interestingly, the top three picks are now in the AFC East -- DE Mario Williams (Bills), RB Reggie Bush (Dolphins) and QB Vince Young (Bills), who signed Friday.
5. NEW LEADER: The Jets' defensive linemen are raving about new position coach Karl Dunbar, who was fired by the Vikings. Dunbar had an advantage over his predecessor the moment he walked in the door: He actually played the position and coached it. The previous D-line coach, Mark Carrier, was a former secondary coach who played safety; it made no sense to have him coach the D-Line.
Dunbar already has taught the players a couple of pass-rushing tricks, including the long-arm technique. It's almost like a running back's straight arm, a way to create separation from the blocker. DE Mike DeVito told me it "allows you to read what the offensive lineman is doing. ... It's a great move. He's got a bunch of stuff like that."
Wonder how the long-arm technique would've worked with South Carolina pass rusher Melvin Ingram, whose arms measured only 31.5 inches at the combine -- a perceived shortcoming (no pun intended) that may have hurt his draft stock. The Jets bypassed Ingram with the 16th pick to take DE Quinton Coples (33.25-inch arms).
6. KEEPING IT SIMPLE: Several offensive players said new coordinator Tony Sparano uses play calls that consist of less verbiage than his predecessor, Brian Schottenheimer. After the season, Rex Ryan remarked that Schottenheimer's terminology was too confusing. Sparano definitely has made an early impact: He's a meat-and-potatoes coach and doesn't stand for any ... well, meat heads. As TE Dustin Keller said, "His coaching style is almost like college -- in your face." Linemen usually like that kind of law-and-order mentality; skill-position players -- the divas -- are less apt to embrace it.
7. ON-THE-JOB TRAINING: RG Brandon Moore told me it's not unusual to walk into the team cafeteria for breakfast at 6:30 a.m. and see a bunch of offensive playbooks open, players studying or quizzing each other on the new system. Said Moore: "Sometimes you feel like a rookie again."
8. TEAM WANTED: So, Plaxico Burress, how's free agency going so far?
9. PAYING RESPECTS: Say what you want about Patriots coach Bill Belichick -- Darrelle Revis said plenty the other day -- but give him credit for this: He attended Junior Seau's private wake Thursday night in San Diego and flew back for his team's rookie minicamp Friday morning. Seau finished his legendary career with the Patriots, 2006 to 2009.
10. PERSPECTIVE, PLEASE: It sounds like the Browns think they drafted the next Jim Brown, the way the coaches are gushing about first-round pick Trent Richardson. He's very good, no doubt, but can we wait until he puts pads on before we anoint him?