Al Pereira/Getty Images
Mark Sanchez earned Joe Namath's endorsement over Tim Tebow on Tuesday.Mark Sanchez or Tim Tebow? In Joe Namath's opinion, it's a no-brainer. The legendary New York Jets quarterback said Sanchez is the superior QB.
"There's no doubt about it, at this point certainly," Namath said Tuesday at the United Way Gridiron Gala in Manhattan. "And Mark's going to get better. He's only going into his fourth year. Golly, I remember a team that won a championship with a quarterback in his fourth year. I hope that happens again."
He was referring to himself, although younger New York fans might think of Eli Manning.
The Jets set themselves up for a potential quarterback controversy as soon as they acquired Tebow from the Denver Broncos. At the time of the trade, in late March, Namath ripped his former team, calling it a "publicity stunt."
The 50 Greatest Jets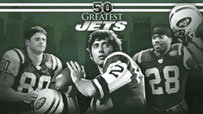 Drawn from more than five decades of history, ESPN New York presents its 50 Greatest Jets. Top 50

Rank 'EmNamath changed his position, saying he can see the positives Tebow will bring to the team. He said Tony Sparano's background in the Wildcat is the key to making it a successful package within the structure of the Jets' offense. (Interesting side note: Namath also criticized the Jets when they hired Sparano.)
"I think it can work," said Namath, adding, "They've got some things up their sleeves to put on some other guys. We'll see. It's interesting, isn't it?"
Asked how he'd feel if he were in Sanchez's position, Namath said without hesitation, "I'd be tickled to death. Are you kidding? Mark knows he's the better quarterback and bring on the competition."
Namath has always been a Sanchez supporter, but he wondered how the Jets' incumbent will handle the pressure and intense scrutiny that will inevitably occur.
"That's going to be sensitive," Namath admitted. "That's going to be tough. We'll wait and see what's happening, of course. When things aren't going well, we're a little bit touchy. It's easy to get upset with some things. Some things can get on your nerves. As a quarterback, I'd like to take every snap in practice I could get. It remains to be seen how they share the snaps in practice come regular-season time."
That is one of many compelling questions surrounding the Sanchez-Tebow dynamic. Tebow's playing time and his specific role -- other than being listed as the No. 2 quarterback -- haven't been defined by the team.
Namath, an outspoken critic of his former team in recent years, tried to put a positive spin on the current quarterback situation, yet he made one remark that will raise some eyebrows.
"Only four teams have used (the Wildcat) in professional football, and they were all because they didn't have a quarterback," he said.
Hardly a ringing endorsement of Sanchez or Tebow, but Namath explained he likes the Wildcat for the Jets because of Sparano's knowledge and the problems it will cause for opponents to prepare for.
"At any rate, Tebow is a positive," Namath said. "Any way you add him to the organization, he's a positive."