Observations on OTA No. 3 (the first session open to the media):
1. Yes, Mark Sanchez outplayed Tim Tebow. So what? It's only May, and it's only OTAs. In the big picture, this means very little. It's almost laughable how some have jumped to conclusions. Chill, people. Frankly, Sanchez should outplay Tebow because he's a better thrower of the football and, with no live pass rush, that's all they're doing -- throwing.
2. There were some dropsies in the early portion of team drills. WR Jeremy Kerley let a well-thrown Sanchez pass sail through his hands, rookie WR Stephen Hill dropped a throw from Sanchez (had plenty of zip on it) and TE Dustin Keller dropped a Tebow pass. Keller rebounded with a diving catch on a Sanchez pass.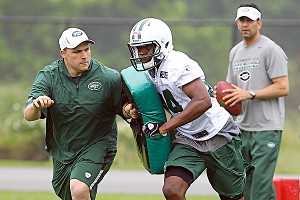 Ed Mulholland/US Presswire
This much was clear: It's difficult to keep up with speedy Stephen Hill.
3. The play of the day was an 80-yard pass from Sanchez to Hill. The second-round pick got past CB Kyle Wilson on a fly pattern and turned on the jets. He was wide open and Sanchez hit him in stride. As Rex Ryan noted afterward, the Jets want to emphasize vertical passing this season. That's the Tony Sparano philosophy: Hammer them with the running game and hit 'em deep on play-action.
4. RB Shonn Greene is listed at 226 pounds, but it looks like he dropped a few. He ran with a little extra giddy-up. I even saw a little something out of Bilal Powell. Yeah, Powell.
5. The defense, which has three-plus years in Ryan's system, is way ahead of the offense, which is just learning Sparano's scheme. RG Brandon Moore noted how the defense showed a few wrinkles, including a "Bear" front and third-down pressures, forcing the offense to react quickly. Sometimes they did, sometimes they didn't. On a couple of plays, Tebow was scrambling around the backfield, looking to escape an unblocked rusher.
6. You'd better be prepared for a summer-long battle, Nick Folk. Recently signed PK Josh Brown impressed at the end of practice, nailing five of six FGAs. His only miss came from 45 yards.
7. No doubt, LB Bart Scott, 12 pounds lighter than last season, is moving better in coverage. He made a nice interception on a Tebow pass.
8. Sparano is big on tempo. In practice, he's always preaching the offense to pick up the pace. You don't want to be the guy who slows down the rest of the group.