It's a question that makes for great debate: Does an offense need to have an identity to be successful?
The 2012 Jets believe the answer to that question is yes. Under new offensive coordinator Tony Sparano, they will be a run-first team, and he has conveyed that to everyone.
"We know what he wants to do," right guard Brandon Moore said last week. "He wants to run the ball. He wants to use play-action. He wants to get the ball down the field. He voices that every day. Everybody understands our philosophy and what our makeup on offense will be."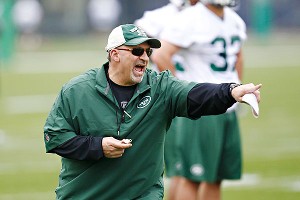 Jeff Zelevansky/Getty Images
Tony Sparano
In 2009, there was no mistaking the Jets' identity -- Ground & Pound. They ran the ball an astounding 59 percent of the time, but that number dropped to 49 and 43 percent in 2010 and 2011, respectively.
A year ago, the Jets had no idea what they wanted to be. Let's spread the field and throw to our three veteran receivers. ... No, let's go back to two-back sets and pound the ball on the ground. Soon, they were calling themselves game plan-specific, adjusting week to week.
By the end of the season, they were such a mess that they threw 59 passes in a loss to the Giants -- ultimately the game that sealed Brian Schottenheimer's fate.
So now the Jets are saying they'll be less game plan-specific than last year, relying on the running game as their bread and butter. There are pros and cons to each approach.
The Patriots are a great example of a game plan-specific team that thrives, emphasizing different personnel groupings and formations based on the opponent. But that style doesn't work for everybody, especially when you don't have a Tom Brady running the show. Chameleon offenses are hard to master because they're so diverse (more material to learn) and difficult to run because they require depth and versatility among the players.
Sparano's offense will allow the Jets to concentrate on becoming good at one thing -- running the ball. When/if that happens, it will create a comfort and confidence level: Everybody knows what we're gonna do, but you have to stop us. Except for '09, Schottenheimer never coached that way; he was always trying to fool the defense. As a result, he got too cute at times.
There will be nothing cute about Sparano's approach. Of course, there are downsides, namely predictability. It also can backfire if they have to step outside their comfort zone and play catch-up.
Ultimately, you have to do what suits your personnel, and the Jets obviously feel QB Mark Sanchez is best in a run-heavy attack. Three reasons:
1. Fewer pass attempts, less opportunity for turnovers.
2. Running sets up play-action, which freezes linebackers and creates passing lanes in the seam and intermediate/deep zones. Statistically, Sanchez is more effective when throwing deep; his accuracy issues hamper his ability to operate a short, controlled passing game.
3. An effective running game means more eight-man fronts by the defense, resulting in single-high safety looks -- an easier defense to read for Sanchez.
"We know who we are now," tight end Dustin Keller said. "We're a power football team that can throw the ball."