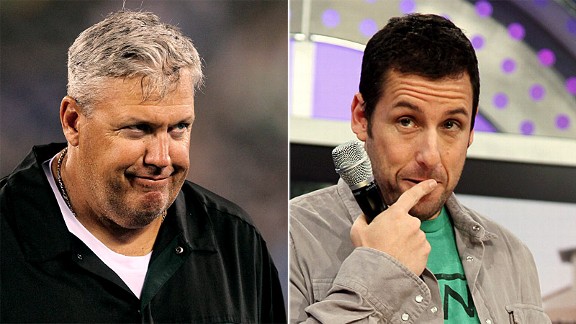 Getty Images
To promote his new movie, "That's My Boy," actor Adam Sandler participated in a conference call Wednesday with Rex Ryan, who plays a cheesy Boston lawyer in the raunchy comedy.
For those not familiar with the storyline, Ryan is a huge Patriots fan who keeps a Bill Belichick bobblehead on his desk and a Tom Brady poster on his office wall. His character is Jim Nance, named after the former Patriots running back from the 1960s. All told, Ryan appears in three scenes in his big-screen debut. The movie opens Friday.
"We thought he would be funny because we wanted a lawyer who could handle degenerates well, and we knew Rex could handle anybody," said Sandler, a lifelong Jets fan who grew up with an Emerson Boozer jersey.
Sandler said Ryan "nailed" his performance.
"He didn't realize he'd have to do about 600 takes, but he rolled with the punches," Sandler said. "He got deep into his character. He had a hard time letting go. He was asking some of the crew members who had DUIs if he could represent them."
During the call, Sandler and Ryan -- speaking from New York and New Jersey, respectively -- engaged in a humorous back-and-forth. They even talked a little football.
Sandler: "We're getting a ring, coach."
Ryan: "I don't want to make a guarantee. We know how that worked last time."
Sandler refuted the rumor that he tried to recruit free-agent CB Nnamdi Asomugha to the Jets last summer. Ryan told Sandler he loves his current defense.
"This might be the best defense we've had since we've been here," Ryan said.
Ryan was asked to name another NFL head coach who would thrive in a comedy. He picked, of all people, Belichick.
"He's a funny guy," Ryan said. "It's just that a lot of people don't know it."
Sandler joked that Belichick would be the first person to show up for the Academy Awards in a sweatshirt.
(Sidenote: Sandler said he had to receive permission from Belichick and Brady to depict them in the movie.)
Naturally, Tim Tebow came up during the call, one reporter wondering if the devoutly religious quarterback would appreciate the crude humor.
"If Tim does see it," Sandler said, "I'm sure he'll have a good time."
Spoken like a true promoter.