Instead of traveling to an exotic locale this week for the start of the coaches' vacation period, Jets tight ends coach Mike Devlin is back on the football field -- specifically, the high-school field in his hometown, Mt. Sinai, N.Y.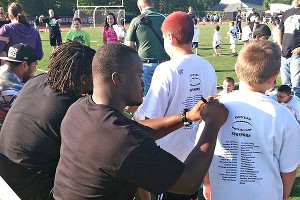 Rich Cimini/ESPNNewYork.com
Rookie RB Terrance Ganaway (r) and rookie G Robert C. Griffin (l) autograph shirts at Mike Devlin football camp in Mt. Sinai, N.Y.Devlin is holding his fourth annual youth football camp this week in his community on the north shore of Long Island. On Monday night, about 150 kids showed up, receiving instruction from several members of the Jets' coaching staff -- Ben Kotwica, Brian Smith, Tony Sparano, Jr., and Lance Taylor. Several rookies showed up, including RB Terrance Ganaway and his former Baylor teammate, OG Robert T. Griffin, both sixth-round picks.
What makes Devlin's camp different from others is that all proceeds go to charity, with no fewer than 11 worthy causes receiving donations.
"I love this community," Devlin said. "Even when I was a player, I always tried to give back."
Devlin moved to Mt. Sinai when he was hired by Eric Mangini, when the Jets were training year-round at Hofstra. They moved to Florham Park, N.J., in 2008, but Devlin decided to stay because he likes the area so much. It's about 110 miles from Florham Park to Mt. Sinai, which made for an awfully long ride for the rookies.
"It was a hike up here," Ganaway said. "I think I took four or five naps along the way, but it was well worth it. We wanted to help coach Devlin and his community, give kids encouragement and be good role models."