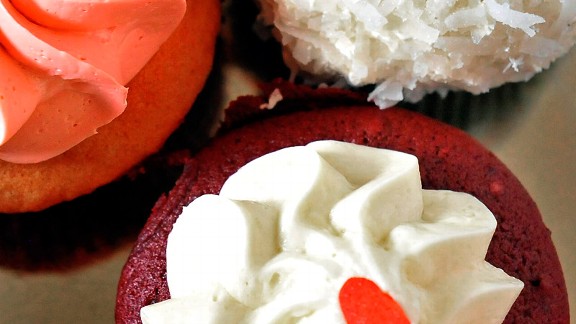 Mark Gail/The Washington Post/Getty Images
Sione Pouha loves cupcakes. But if we were you, we wouldn't call him one.This is our ninth "Take Five" list. From now until training camp, we'll have periodic lists -- some serious, some not-so-serious. In this list, NT Sione Pouha shares his five favorite dishes. Pouha, listed at 6-foot-3, 325 pounds, is a man who knows and appreciates good food.
"In my culture, Tonga and Polynesia, any celebration consists of food," Pouha said. "It's probably similar to Italians. You find a reason to eat. Birthday? Let's eat. Wednesday? Let's eat. Food is very important. It's a form of celebration for my culture."
Pouha's top five:
1. Roast pig: "Back home, this is very popular. We eat the roast pig with a starch food, something with the consistency of a sweet potato."
2. In-ground oven pig: "We call this Umu. In my language, that means we use the earth as an oven."
3. Southern-style cooking: "I love Texas brisket and beef ribs. Delicious."
4. A heavy, sweet dessert: "Anything in this category works for me -- cupcakes, ice cream, you name it. Just lock me up in a Cheesecake Factory bakery and I'll be good."
5. Chinese: "Can't go wrong with Chinese, right? I'd go with some General Tso's chicken, kobe ribs and the combo fried rice. It has to be the combo. You can't do just chicken. You have to do chicken, pork, shrimp. And some udon noodles. Yeah, definitely some udon noodles."
Hungry yet?
To see all our Take 5 lists, click here.